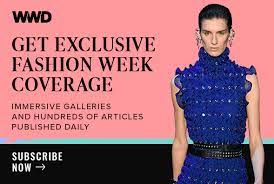 WWD Webinar Spotlights Role of RFID in BOPIS, Omnichannel Retailing:
The global pandemic has forced seismic changes across the entire value chain of the retail industry. Evolving demands and shifts in how consumers shop have forced merchants and brands to reconfigure their business in a truly integrated and seamless way.
Consumer preferences for curbside pickup and buy online, pick up in store (BOPIS) is adding additional pressure on retailers and brands who are also figuring out how to use products on store shelves to fulfill online orders. All of which requires brands and merchants to have absolute visibility into their inventory.
It's within this context, that WWD presents a digital event, titled, "How Item-Level RFID Provides Significant Value for Retailers By Improving Inventory Accuracy" on Oct. 6 at 11 a.m. EST. In this free event, industry leaders share perspectives into how pandemic-induced changes in consumer behavior have created pressure on retail inventory and operations. Attendees will learn how day-to-day operations are dramatically improved using item-level RFID and setting the foundation for a new era in retailing.
This webinar features Dean Frew from SML and Johan Strenstom from Stadium, and will be moderated by Arthur Zaczkiewicz, executive editor of WWD and Fairchild Media Group.
About the speakers:
Dean Frew is chief technology officer and senior vice president of RFID Solutions at SML Group and founder of SML Intelligent Inventory Solutions (formerly Xterprise, purchased by SML in 2013). Frew is responsible for driving SML's RFID tags and Solutions strategy. He runs the RFID solutions division, based on his 20-plus years of experience delivering RFID solutions to retailers and brand owners around the globe.
Johan Strenstom is supply chain developer at Stadium AB. Stenstrom joined Scandinavia's leading sports retailer Stadium in 1995 and worked the last 15 years as a supply chain developer. He likes to combine his interest in technology and innovation with his passion for optimizing lean supply chains. Stenstrom was the project leader for Stadium's RFID investment and is in charge of Stadium's never-ending improvement within RFID.