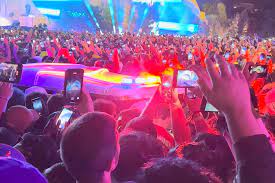 Rockefeller Center is taken over by Mary J Blige and a perfume. Last Friday night, the luxury fashion business Chanel celebrated the centennial of its ever-popular fragrance No. 5 (also known as Marilyn Monroe's favourite thing to wear to bed) at Rockefeller Center.
It was a Chanel-themed night. The ice skating rink was adorned with its double C emblem; giant mock-ups of the perfume's recognisable profile lined a corridor; celebrities such as Lily Allen, Jemima Kirke, and Sadie Sink donned head-to-toe Chanel; and Mary J Blige sang.
According to Chanel representatives, the party was intended to promote a product that sold more than 500,000 bottles in the United States in 2019. The show will be on display until Friday.
"I've never felt so gorgeous," actor Tommy Dorfman stated. The "13 Reasons Why" actress, who came out as transgender last year, looked stunning in a Chanel tweed blazer and transparent black skirt.
"To be able to partner with, or even wear on a red carpet, a legacy brand with so much history as a different sort of woman in society seems like a duty that I don't take lightly," Ms. Dorfman remarked with a beaming grin. "All I can say is that I'm pleased to be included."
Lauren Ridloff, who plays Marvel's first on-screen deaf hero in "Eternals," has also spoken out for more diversity in fashion. "I feel like fashion has room for everyone, and it's about time we start seeing that," Ms. Ridloff said with the help of an American Sign Language interpreter.
Masked waiters emerged with platters of chicken potpie, butternut squash soup, cheeseburgers, and French fries as the celebration began. Guests at the bar screamed out requests for a vodka-based apple cider, wine, and sage-adorned drinks. Brass Queens Band, an all-female New Orleans-inspired band, blasted out loud, joyful sounds near the ice.
Elladj Baldé, a former professional figure skater from Canada, rushed onto the ice about 8:30 p.m. and performed vertiginous back flips, spins, and kicks to Bruno Mars' smash "Uptown Funk." Before his performance, Mr. Baldé stated, "I wanted to provide a joyful, easy, groovy feel."
Mary J Blige came onstage, which was put up in front of the Prometheus statue, just as the temperature fell and warming lights were brought out for shivering attendees. She played her biggest songs, including "Real Love" and "Just Fine," for almost 20 minutes while clad in, of course, more Chanel.
Ms. Blige halted and addressed the audience at one point. "We're going through a lot right now," she explained. "And, as much as I hate to say it, I think we're going to have to go through some more stuff." That is why we must look for ourselves and one other."