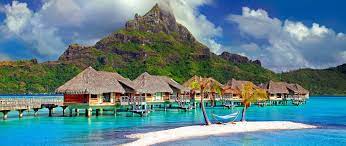 Entry and Departure from French Polynesia by Air
All travellers, including those who have been completely vaccinated, must submit their travel arrangements via an application on the ETIS website. You may also be needed to present applicable supporting paperwork detailing the cause for your journey (for example, personal, family, medical emergency, or professional reasons), as well as mandatory health and testing statements. Applications, paperwork, and documentation must be filed at least six days prior to the anticipated trip to or from French Polynesia. Any modifications to your plans, either before or after your arrival, should be communicated to authorities using the ETIS portal.
The French High Commission in French Polynesia and the French Polynesia Health Department approve travel to and from French Polynesia. Clearances may be issued up to 48 hours before the scheduled flight.
When checking in for a flight, you must produce all applicable permissions and supporting documents, including COVID-19 test results, evidence of vaccination, and ETIS registration. You must also show documentation of a current travel insurance policy that covers hospitalisation, medical bills, and repatriation charges, including COVID-19, or agree to fund these costs privately.
Currently, vaccinated travellers are not subject to quarantine upon arrival. Minors travelling with vaccinated guardians must undergo self-testing upon arrival (kits are provided on arrival).
Arrival testing and quarantine regulations apply to all unvaccinated travellers and youngsters accompanying them, as well as unaccompanied minors. Travelers will be compelled to contribute to the costs of their quarantine and testing.
Quarantined individuals will be subjected to additional periodic examinations at the behest of local authorities. If you test positive, your quarantine time may be prolonged or you may be moved to a medical institution, depending on the circumstances.
Entry into French Polynesia by Sea
Except for permissions allowed by local authorities in exceptional instances, maritime borders remain closed.
You must get prior consent from the French Polynesia Maritime Affairs Directorate (DPAM) and the French State Department of Maritime Affairs in French Polynesia (SAM). You should seek assistance from the DPAM and the SAM on protocols that apply to your individual situation. Disembarkation at sea or at berth will not be permitted until vessels and people have been cleared.
The DPAM website in English contains information about arriving in French Polynesia by water, including the flyer 'Arrival in French Polynesia by sea' and crucial arrival documents (Declaration of entrance and stopover, and Maritime declaration of health) that must be filled prior to arrival.
If you are forced to undergo quarantine and testing upon arrival, you will be expected to pay to the costs associated with your quarantine term.
For the foreseeable future, all cruise ship trips from foreign ports will be halted. There may be domestic cruises that solely visit French Polynesian waterways and ports. Before purchasing a ticket, you should consult with the cruise line and local authorities about any additional criteria that must be met prior to and after boarding.