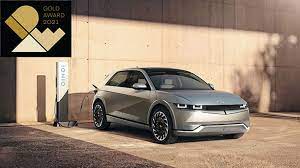 Hyundai Motor Company has launched the third annual version of "Re:Style," an upcycling fashion initiative that employs materials abandoned during the automobile production process and highlights the company's sustainable entrepreneurship outside of the automotive sector.
The Re:Style 2021 collection is being introduced in Seoul and Paris in collaboration with fashion select retailers L'Eclaireur and Boontheshop. The three organisations' unusual relationship exemplifies Hyundai Motor's expanding commitment to eco-friendly manufacturing, innovative outside collaboration, and interaction with environmentally concerned consumers. Hyundai Motor's collaborations with L'Eclaireur and Boontheshop, in particular, demonstrate the two fashion brands' common dedication to eco-friendly production and the availability of easily accessible and wearable fashion goods.
"With the third annual Re:Style celebration this year, Hyundai Motor Company maintains its determination to support 'development for mankind,' its brand mission and aim," stated Thomas Schemera, Global Chief Marketing Officer and Head of Hyundai Motor Company's Customer Experience Division. "We are progressively increasing our cooperation with diverse businesses throughout the world in order to usher in a more sustainable future." One of them is Re:Style 2021, and we believe that it will serve as a focal point for young customers all around the world to understand the impact of manufacturing surplus materials on our common environment and how we can artistically and practically repurpose them."
Limited numbers of twelve fashion products, including track jackets, sweatshirts, zip-up hoodies, short pants, and long pants, are available in both the online and offline shops of L'Eclaireur and Boontheshop. The offline shops are open for two weeks, from October 14 to 27, while the internet shops are open for four weeks, till November 10.
For this year's Re:Style, surplus automobile production components such as airbags and seatbelts were used. Furthermore, eco-friendly materials such as Bio PET and recycled fibres were employed in the Hyundai IONIQ 5, improving wearability and highlighting the possibilities for integrating biomaterials in fashion and beyond.
"As a fashion distribution firm, we have always been concerned about the impact of wasted garment materials on our world," stated Michael Hadida, CEO of L'Eclaireur. "By recycling the wearable elements from vehicle manufacture and reinvesting the money in other initiatives, we want to establish a virtuous cycle of sustainability and help to save our world in a unique way."
"It is incredibly significant to join in this innovative and value-added partnership with Hyundai Motor Company," stated Boontheshop. We expect that Re:style 2021 will arouse fresh interest and knowledge among today's mindful consumers about making purchase decisions that incorporate the holistic character of our shared environment."
The revenues from the sale of these goods will be donated to various charity organisations across the world. A video (HyundaiWorldwide – YouTube) starring actress Doona Bae, actor KyoHwan Koo, and virtual influencer Shudu, all wearing Re:Style goods, is now available, clarifying the campaign's objective and philosophy.
About Hyundai Motor Company
Established in 1967, Hyundai Motor Company is present in over 200 countries and employs over 120,000 people worldwide to address real-world transportation concerns. Hyundai Motor is advancing its transformation into a Smart Mobility Solution Provider, guided by the brand goal 'Progress for Humanity.' The firm invests in cutting-edge technology such as robots and urban air mobility to provide game-changing mobility solutions, while also pursuing open innovation to deliver future mobility services. Hyundai will continue its efforts to introduce zero-emission cars equipped with industry-leading hydrogen fuel cell and EV technology in pursuit of a sustainable future for the globe.
More information about Hyundai Motor and its products can be found at: