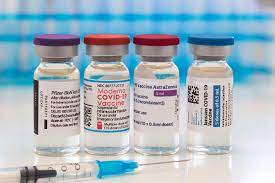 Covid Protection Diminishes Within 6 Months After 2nd Dose Of Vaccine, Booster Required.
New Delhi:
Covid Booster Vaccine required, According to a new study of around 5,000 Israeli health workers published in the England Journal of Medicine, there is a continual drop in protective antibodies six months after the second dose of the Covid-19 vaccine is provided.
According to the research, boosters are required because immunity deteriorates dramatically within months. Men were found to have poorer protection than women due to lower antibody levels, both at the beginning and end of the trial.
Participants in the trial had received Pfizer and BioNTech injections.
After the second dose, there is a decrease in antibody levels.
There was a dramatic drop in levels at first, followed by a more gradual drop.
Gili Regev-Yochay, one of the study's authors, stated that investigations to determine the crucial threshold of antibodies required to prevent coronavirus infection are vital since they will assist estimate risk levels and find protective measures.
Older adults have lower antibody levels in their blood than younger persons, according to a study done by Sheba Medical Center in Ramat Gan. In addition, antibody levels in immunocompromised patients were lower than in the healthy group.
According to Bloomberg, Regev-Yochay stated in an online press briefing that the research assisted them in understanding the source of breakthrough infections in persons who received both doses of the Covid-19 vaccination. She went on to say that the United States is likely to follow Israel's lead and provide a third dose to everyone.
She stated that she would be shocked if many new infections did not occur in the United States. Furthermore, the country has limited booster recommendations for the elderly and disadvantaged groups.
Another trial published in the same publication that was conducted in Qatar discovered that the efficacy of the Pfizer-BioNTech shot faded during a comparable time period. The protection level was determined to be 77.5 percent during the first month following the second dose. Protection dropped to 20% five to seven months after the second dose.
According to the Bloomberg report, study co-author Laith Abu-Raddad stated that the evidence is consistent and that protection against hospitalisation and death is quite powerful and more permanent than protection against infection. He went on to say that a third booster shot would assist optimise the vaccine's protection.
Other related studies
The Bloomberg storey also highlights previous Israeli research published in the same journal, which claim that specific occurrences of heart inflammation have occurred following immunisation. According to one study, there were cases of young male recipients developing myocarditis after getting the vaccination, which was typically mild. One of the young male recipients, however, died as a result of this illness.
The estimated incidence of myocarditis was found to be 2.13 instances per 100,000 people, with the majority of cases being mild or moderate, in Israel's largest health-care system.
Male patients aged 16 to 29 had the highest incidence.