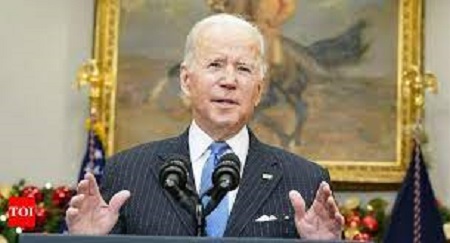 The World Health Organization warned Monday that the omicron variant discovered in South Africa last week is likely to spread quickly around the world and could have "severe consequences."
"There may be future COVID-19 surges, which could have severe consequences depending on a number of factors, including where surges may occur," the WHO said in a technical brief. "The overall global risk associated with the (omicron variant) is very high."
According to the WHO, there is currently no evidence that symptoms associated with omicron differ from those associated with other variants. According to the WHO, no deaths have been linked to the omicron variant. However, preliminary evidence suggests that the variant may have mutations that help it evade immune-system responses while also making it more transmissible.
President Joe Biden responded to the latest threat on Monday, urging Americans to get vaccinated, get a booster shot, and wear masks in public.
"This variant is cause for concern, not panic," said Biden. "We have more tools than ever before to combat the variant."
"If updated vaccinations or boosters are required to respond to Omicron, we will accelerate their development and deployment with every available tool," Biden said.
According to Dr. Anthony Fauci, the United States will need about two weeks to learn more definitive information about the transmissibility and severity of the omicron variant.
A federal judge has blocked the implementation of a vaccine mandate for health-care workers in ten states.
A federal judge in Missour variant has barred the administration from imposing a COVID vaccine mandate on health care providers in Australia and 10 states, claiming that there is no "rational connection between the facts discovered and the decision made."
U.S. District Judge Matthew Schelp also stated that the Centers for Medicare and Medicaid requirements did not receive congressional approval, which he argued was required, and were not subjected to the usual period of public comment.
"Truly, the mandate's impact extends far beyond COVID," Schelp wrote.
"CMS seeks to usurp traditional state authority by imposing an unprecedented demand on the federal government to dictate the private medical decisions of millions of Americans." This action calls into question traditional notions of federalism."
The judge's decision also applies to Alaska, Arkansas, Iowa, Kansas, New Hampshire, Nebraska, Wyoming, and North and South Dakota, in addition to Missouri. All of them had filed lawsuits, claiming that the vaccination mandate was unconstitutional.
Biden believes that vaccines, not lockdowns, are the best tool for combating the Omicron variant.
President Joe Biden vowed that no new lockdowns would be imposed in response to the new variant of the coronavirus, known as omicron, instead encouraging Americans to get vaccinated and wear face masks indoors and in public places as the best tools for combating COVID-19.
"The best protection against this variant or any of the Omicron variant out there… is getting fully vaccinated and getting a booster shot," Biden said during a White House press briefing on Monday. "Most Americans have been fully vaccinated but have not yet been boosted."
During a meeting with the COVID-19 response team on Sunday, presidential adviser Dr. Anthony Fauci informed Vice President Joe Biden about existing vaccines, particularly those supplemented with booster shots. Howl offers protection against severe COVID-19 infections.
Biden intends to lay out a "detailed strategy" for combating COVID-19 in the coming winter on Thursday.
"Not with shutdowns or lockdowns," he asserted. "However, with more widespread vaccinations, boosters, testing, and other measures." He also urged Americans to wear masks when entering public buildings.