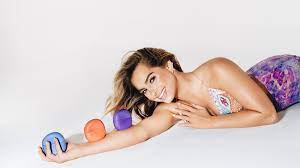 Addison Rae is launching a fragrance line based on mood. Rae has collaborated with fragrance company Hampton Beauty to create a first range of perfumes that match odours to moods. The AF Collection by Addison Rae will be available on its own website in early November, with each 30-mL scent – there are three – costing $40. The "clean" brand will be available for purchase on TikTok and Instagram, where Rae has 85 million and 40 million followers, respectively.
Rae's second cosmetic business, but her first in scent, is the AF Collection. Rae debuted Item Beauty, the cosmetics firm she co-founded with incubator Madeby Collective, last summer. In August, Item went direct-to-consumer and entered Sephora.
Addison Rae, 21, told WWD Beauty Inc in a face-to-face interview in September that she saw fragrance as "the next item" to add to her burgeoning beauty portfolio.
"As I've gotten older, I've become more interested in scent," Rae stated from the set of her AF Collection picture shoot. "It's such a distinct region to get to know and understand what goes on behind the scenes."
Addison Rae was an excellent fit for Hampton Beauty, which, like most beauty brands, is eager to gain a portion of the Gen Z market.
Mariano, Hampton Beauty's managing partner. "She didn't just want her audience and followers to smell beautiful; she also wanted them to feel good." Her entire idea was to take scent in a new direction. The Gen Z audience expects you to do something out of the ordinary. This provides an answer to their query. We provided Addison with a platform to tackle scent from a new perspective."
The AF Collection is available in three scents: Chill AF, Happy AF, and Hyped AF. Each smell is cruelty-free and has a water basis, as it is made from repurposed materials using green chemistry. The alcohol-free perfumes are intended to be moisturising and long-lasting; they may be applied to the skin or hair.