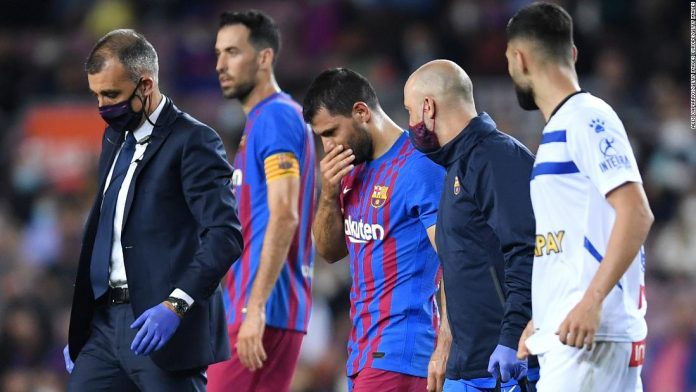 Barcelona star Sergio Aguero admitted to hospital for 'cardiac exam'. The 33-year-old was treated on the field after being spotted holding his chest shortly before halftime, and he was later replaced during the break. Medics assisted Aguero while he laid on his back, but the player was able to walk off the field on his own.
"He was said to be feeling a little woozy. I just found out he was rushed to the hospital, and I can't say much more until I know more "Sergi Barjuan, Barcelona's caretaker coach, stated after the game.
In a social media post, the club announced Sergio Aguero had been sent to a hospital for a heart checkup, but the results of the exam have yet to be disclosed.
Manchester City, Aguero's old club, wished the striker luck on Twitter.
It stated, "Everyone at Manchester City wishes you a fast recovery."
"We're on your side."
Sergio Aguero was making his first appearance at the Camp Nou after joining from the Premier League club in the summer. While Barcelona has had a slow start to the season, the striker has been recovering from an injury. Ronald Koeman was fired as manager last week due to the club's dismal results, with the club presently wallowing in ninth place in La Liga.
Sergio Aguero of Barcelona was rushed to the hospital for a 'cardiac checkup' after experiencing chest pain during the game.