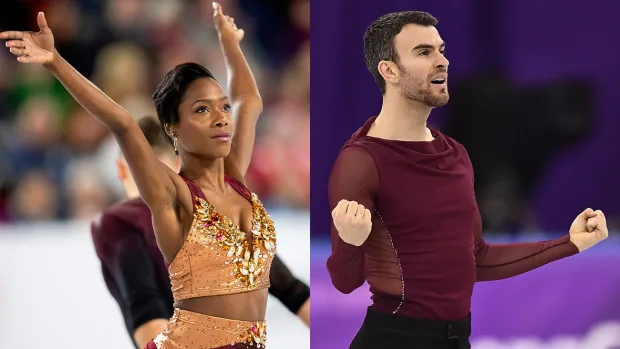 Radford, James skate to 2nd in the short program in international debut as a team
Vanessa James and Eric Radford, a new Canadian pairs partnership, are second after the short program at the Skate Canada Autumn Classic International – their international debut as a team.
James and Radford got off to a solid start with their triple twist but ran into difficulties on their second element, a side-by-side leap, which saw James fall after tripling her salchow.
The team responded with a clean throw triple flip, earning a final score of 68.29.
Radford, a three-time Olympic medalist, and two-time world champion revealed in April that he and James would be returning to the competition. James formerly participated for France, where he won the European and Grand Prix Final championships as well as a bronze medal in the World Championships.
The announcement comes ahead of the season running up to the 2022 Olympics in Beijing when Canada is expected to send two pairs of teams.
Deanna Sellato-Dudek and Maxime Deschamps of Canada are one spot off the podium with 57.83, while Lori-Ann Matte and Thierry Ferland of Canada are seventh with 51.17.
The senior men's short program will be shown live on Friday at 12:40 p.m. ET.
The senior ice dance rhythm dance begins at 2 p.m. ET, followed by the senior pairs free program at 3:45 p.m. ET and the senior women's free program at 6:15 p.m. ET.