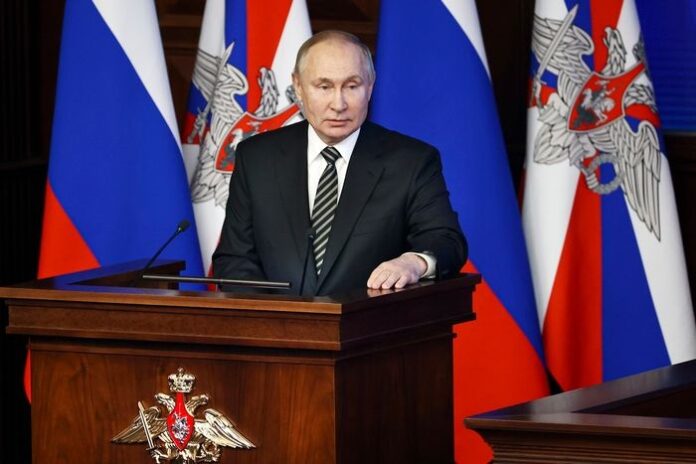 Russian President, Vladimir Putin sharpened his rhetoric against the West, blaming the United States and Europe for deteriorating ties and pledging to react against their actions as he authorised the expansion of Russia's military forces and armaments.
"What is occurring today, the tension that is rising in Europe, is their responsibility," Mr. Putin told a board meeting of the Russian Defense Ministry on Tuesday. "At every step, Russia was compelled to respond in some way, and at every step, the situation worsened, worsened, worsened." And now we're in a position where we have to make a decision."
If Western antagonism persists, Russia would take "appropriate retaliatory military-technical measures and respond harshly to unfriendly moves," he added. "We've got every right to do so."
Mr. Putin's strong tone comes at a time when the United States and Europe are apprehensive about Moscow's intentions to invade Ukraine. The United States and its European allies have threatened Russia with severe economic sanctions if it invades. A senior State Department official said Tuesday that the US recommended opening discussions with Russia in January over its force buildup near Ukraine and its requests for new security assurances from the North Atlantic Treaty Organization alliance in order to avoid a confrontation.
Russia has deployed tens of thousands of troops on Ukraine's border but denies ambitions to invade the country, as it did in 2014 when it annexed the Crimean Peninsula. Instead, Russia has expressed worry about its own national security and sovereignty in the face of NATO's alleged eastward march.
"The concentration of US and NATO military troops right on Russian borders, as well as the conduct of large-scale exercises, even unplanned ones," Mr. Putin stated.
He expressed special concern over the deployment of pieces of the United States' global missile defence system near Russia. He said that infrastructure improvements made by the US and NATO in Poland will shorten the flight periods of missiles directed at Moscow. "This is the most significant problem for us—a threat to our security."
According to US officials, the missile defence system in Poland is designed to fight Iranian ballistic missiles rather than Russian strategic systems.
Russia's defence minister, Sergei Shoigu, told the audience that the US had placed roughly 8,000 troops in Eastern Europe on a rotating basis and was attempting to integrate the Ukrainian army in the alliance's actions, which he described as hazardous for Russia.
Moscow has provided the United States with a list of security guarantees that it expects from the West. They include blocking NATO from expanding farther east to encompass Ukraine and ceasing any NATO military activity in areas that Moscow considers to be within its sphere of influence, such as Eastern Europe, Central Asia, and Transcaucasia.
Karen Donfried, the United States' assistant secretary of state for European affairs, told reporters on Tuesday that the United States is "willing to address the offers that Russia has put on the table."
"There are certain things we are willing to work on, and we feel there is sense in having a dialogue," she added. "Other elements in those materials are known to the Russians to be inappropriate."
Ms. Donfried stated that the date for the January meetings with Russia has yet to be determined. According to her, the US idea is for conversations to take place through many channels. She stated that the January meetings between US and Russian officials will take place in conjunction with discussions in the NATO-Russia council, a platform for the two sides to confer on security. According to Ms. Donfried, the Organization for Security and Cooperation in Europe would also serve as a platform for parallel consideration of some Russian ideas.
"My feeling is that we will see movement in these channels in January," she said.
According to White House spokeswoman Jen Psaki, Russia's proposals are being discussed with the United States' European allies and partners, but the United States will not compromise "the key principles on which European security is built, including that all countries have the right to decide their own future and foreign policy free from outside interference."
Mr. Putin stated on Tuesday that Russia was not issuing an ultimatum to the United States, but rather required a long-term legally enforceable commitment rather than merely spoken promises. However, he stated that Washington's legal commitments could not be trusted since "the United States readily withdraws from all international accords that, for one reason or another, become boring to them."
Mr. Shoigu stated that Russia's military forces' fighting capability have improved by about 13%. Mr. Putin praised Russia's military for its progress over the previous year, but he urged for more, such as focusing on the delivery of precision-guided missiles and improved intelligence, navigation, communications, and control systems next year.