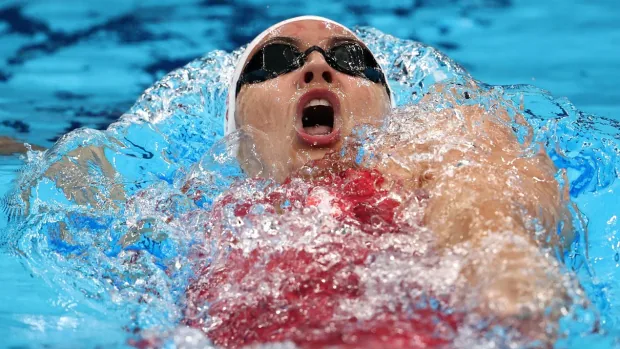 Canada's swimmers enjoyed another successful Olympics in Tokyo, capturing six medals for the second time in a row. And, despite the fact that many of them are still in their early twenties, anticipation for the 2024 Olympics in Paris, which are less than three years away, as well as the 2022 World Championships, which are just eight months away, is already high.
But you don't have to wait so long to satisfy your need to swim. Several Canadian Olympians are presently competing in the third season of the International Swimming League. Here are a few things to know if you're new to the weird indie circuit:
The setup is unique. Instead of competing for their country in world championships, Olympics, and other conventional meets, swimmers compete for multi-national teams, much as in any other sports league. Another feature that the ISL has with other leagues is that teams participate in a regular season, followed by playoffs and a championship game to decide a champion. Game presentation is very crucial in the ISL. The display is far more sophisticated and showy than anything seen during the Olympics. There's dramatic lighting, a live DJ, and music that plays during the races. The only time there is stillness is when the swimmers go into the starting blocks.
The races are also distinct. ISL pools are just 25 metres long, or half the length of an Olympic pool. Each event has two swimmers from each of the four opposing teams, filling all eight lanes. Due to the lack of preliminary heats, practically every race is a final. Swimmers gain points for their teams (and prize money for themselves) depending on where they finish, not on how fast they swim. Individual races last 50, 100, 200, or 400 metres, and relays last 4×100 metres. The "skins" race is perhaps the most strange event on the ISL calendar. The competition starts with eight swimmers, then drops to four for the second round, and ultimately two for the final.
Gender equality is one of the guiding principles. For each match, teams have 12 men and 12 women in their starting lineups. Each match includes an equal number of men's and women's races, as well as a mixed relay. The prize money is the same for men and women.
The top swimmers earn a lot of money. Caeleb Dressel, an American star, earned over $292,000 in the United States last season, including a $100,000 bonus for winning the season MVP title and additional $65K for winning five-match MVPs (in both cases, the MVP is determined by a points system based on where swimmers finish in their races). Eight swimmers took home more than $100,000. No Canadians, however, got wealthy. Kylie Masse earned slightly more than $40,000 as the highest earner.
The Toronto Titans are the team to watch for Canadians. It is Canada's sole club and boasts by far the most Canadian swimmers. Among them are Kylie Masse, a two-time 100m backstroke world champion who won two individual silvers and a relay bronze at the Tokyo Olympics; Kayla Sanchez, who won two relay medals in Tokyo; and Brent Hayden, a 37-year-old former world champion who returned from a seven-year retirement to qualify for the Olympics this year. Summer McIntosh, a 15-year-old phenom who finished barely off the podium in the women's 400m freestyle at the Olympics, is also a Titan.
WATCH | McIntosh wins 400m free at ISL event:
According to Simone Biles, the FBI and USA Gymnastics "failed" her and hundreds of other athletes.
Biles, along with fellow Olympic gold medalists McKayla Maroney and Aly Raisman, testified before a U.S. Senate judiciary committee, accusing both organisations of failing to properly investigate their allegations against Nassar, who was eventually sentenced to life in prison for molesting female gymnasts under his care. The hearing was held after the FBI was rebuked in a Justice Department report for botching its investigation, which allowed the abuse to continue for months. The FBI Director apologised to the molested gymnasts today.
Andre De Grasse won the final race of the season. Last week's Diamond League Finals in Zurich saw De Grasse finish second in both the 100-meter and 200-meter races. However, the Canadian star had one more race before calling it a year, a 100m in a meet in Switzerland yesterday. The Olympic bronze medallist defeated Americans Fred Kerley (silver medalist in Tokyo) and Justin Gatlin in 10.06 seconds (former Olympic and world champion). De Grasse concluded 2021 with six individual victories in either the 100m or 200m, including his first Olympic gold medal in the 200m.
De Grasse may be getting a makeover. Following the announcement yesterday by anti-doping inspectors that a member of the second-place British squad tested positive for a prohibited drug, his and his Canadian colleagues' bronze medal in the 4×100 in Tokyo might be transformed to a bar of silver. The Court of Arbitration for Sport will examine the verdict and decide if Great Britain should be disqualified and stripped of its medal. More information regarding the lawsuit is available here.