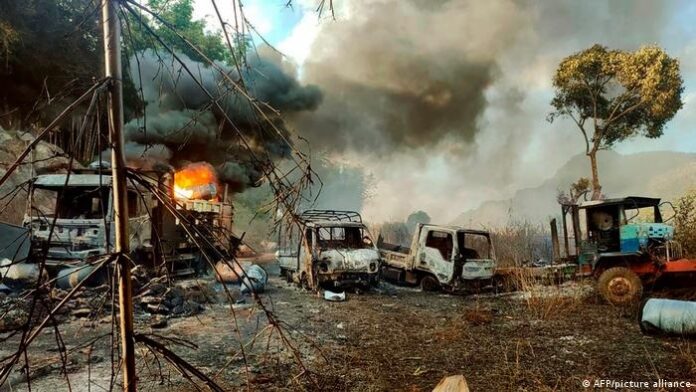 Dozens, including children, are killed in a military attack in Myanmar. At least 38 people, including children, were killed in an attack by Myanmar's military in a region of the country where resistance groups have been fighting forces from the junta. Save the Children and a local militia that opposes the military say that happened.
When two Save the Children workers were going home for the holidays after doing humanitarian work in Kayah state in eastern Myanmar, their car was attacked and set on fire. They were going home for the holidays. The group said that the military reportedly took people out of their cars, arrested some, killed some, and burned their bodies. It said that at least 38 people were killed and that two of its employees were not found.
Following a coup by the military in February, violence broke out in this Southeast Asian country. The military took over government and arrested all of the country's elected leaders. The military has made unsubstantiated claims about election fraud, and it has used violence to stop protests in order to restore the rule of law. Rebel groups in many parts of the country are also fighting back against the military with force. The Assistance Association for Political Prisoners, a group that keeps track of arrests and deaths, says that in Military Attack has killed more than 1,300 people since taking power.
A spokesman for the Karenni Nationalities Defense Force, a local militia that fights the military, says that 39 people were killed in Kayah state on Friday when the military attack. 35 civilians and four militia members were killed in a separate attack near by. She was running from a military campaign in the area when many people were shot. The military then set fire to their cars, he said.
Myanmar's military told a different storey. It said that some drivers didn't stop their cars at a military checkpoint, and that people inside the cars started firing at its soldiers, who responded with force. It said that the vehicles were burned because they had supplies that would help the resistance. Military statements given to local journalists didn't mention Save the Children staff, and the military didn't answer questions about the aid workers right away. The military didn't give us its own death toll.
After the coup, Myanmar's economy took a big hit, which made people worried about widespread hunger. But humanitarian groups say that fighting has made it hard for them to help some of the country's most vulnerable people, like people who have been displaced.
All over Myanmar, Save the Children runs nutrition and education programmes.
We are disgusted by the violence that has been done to innocent people and our staff, who are humanitarians who help a lot of people in Myanmar. "We are appalled by this," said Inger Ashing, the chief executive of Save the Children. There are still investigations into the nature of the incident, but military attack on aid workers can't happen.