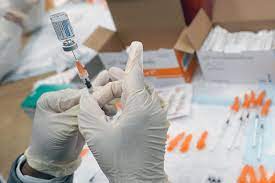 ---
What is the WHO definition of COVID?
Long COVID is defined by the WHO as a condition with at least one symptom that usually occurs within three months after the onset of confirmed or probable coronavirus infection, lasts at least two months, and cannot be explained by another diagnosis.
Symptoms may emerge at any point throughout the infection or after the patient has recovered from acute illness.
Fatigue, shortness of breath, and cognitive issues are among the most prevalent persistent symptoms. Other symptoms include chest pain, odour or taste abnormalities, muscle weakness, and heart palpitations. COVID has an effect on daily functioning in general.
The WHO definition is subject to change as new information arises and our understanding of the implications of COVID-19 evolves. According to the agency, youngsters may require a different definition.
The precise number of people affected is unknown. A study of more than 270,000 COVID-19 survivors conducted by Oxford University discovered that 37% experienced at least one long-term symptom, with symptoms being more common among those who required hospitalisation.
A separate Harvard University study examining over 52,000 COVID-19 survivors whose infections were only mild or asymptomatic reveals that protracted conditions may disproportionately impact patients under the age of 65.
According to a study published in the Lancet, 20 percent to 30 percent of patients who were moderately ill and up to 54 percent of those who were critically ill had lung difficulties 12 months after leaving the hospital.
The Harvard study also discovered that new diagnoses of diabetes and neurological problems are more likely in people who have a history of COVID-19 infection than in people who do not have the illness.
Regardless of the severity of the initial COVID-19 condition, many symptoms of extended disappear over time. According to the study published in the Lancet, the proportion of patients still having at least one symptom decreased from 68 percent at six months to 49 percent at 12 months. According to the WHO, symptoms might fluctuate over time and reappear after initially improving.
Some persons with lengthy COVID may have improved in their symptoms after being vaccinated, according to small studies. More research is needed, according to the US Centers for Disease Control and Prevention, to assess the impact of immunisation on post-COVID disorders.