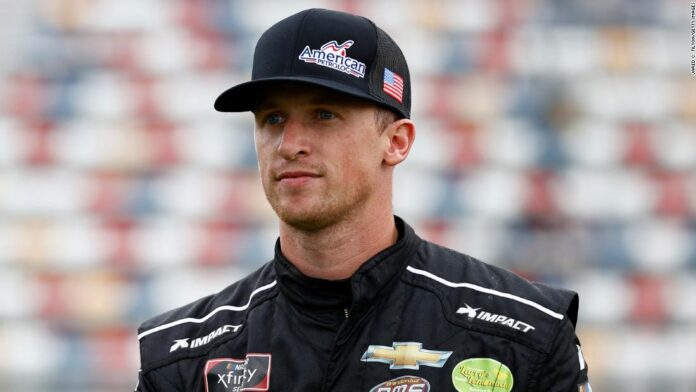 In NASCAR's 'Let's Go Brandon' review.
Now NASCAR is investigating. According to Max Marcucci, a representative for Brown's team, NASCAR approved the sponsorship and paint scheme late last year.
"We regret for any mistake and misinterpretation," NASCAR phoned Marcucci after the announcement, acknowledging the team's consent but said the transaction "has to be evaluated at a higher level."
Brown's No. 68 Chevrolet Camaro will be painted in an eye-catching red, white, and blue livery with the logo and wordmark of LGBcoin for the whole NXS season. Brown shared a video of the automobile.
"We are happy to assist Brandon this season, to help him fulfil his American dream," said Typhoon Capital Management founder James Koutoulas. If we execute our job well, you'll think and feel 'Let's Go Brandon' when you think of us."
The meme coin "aims to encourage happiness and solidarity, founded on a strong belief in the American ideal," according to the announcement.
It said it was "extremely aware and grateful of the procedure necessary to approve sponsors and paint schemes" and would not try to avoid it.
"Brandonbilt Motorsports submitted our most recent sponsors and paint scheme to NASCAR, following the regular approval process," Brown's team said.
"On December 26, 2021, a NASCAR Racing Operations official approved the sponsors in writing. After receiving this consent, the team proceeded with an announcement.
"NASCAR's communication stating 'The sponsors are approved' was unequivocal. The sole criticism was for modest graphic design tweaks to improve track readability at 170mph.
"We will continue to work with NASCAR to quickly resolve this issue."
After Brown won his first professional race at Talladega Superspeedway in Alabama in early October, the chorus began.
"F**k Joe Biden," the audience chanted when Brown won. "Let's go Brandon," said the reporter interviewing Brown.
After the shout, NASCAR President Steve Phelps dissociated the sport from it.
"I'm sorry," Phelps said. "I believe that regrettably reflects where we are as a country. We don't want to be associated with politics, left or right. We have always had immense respect for the office of the president, regardless of who is sitting.
"I believe it's a shame. Do we enjoy that it started with NASCAR and is now spreading? No, we're not pleased. But we will continue to show respect for the president's office."
And on December 19, Brown told The New York Times, "We want to appeal to all consumers, because we are all consumers." I'm not interested in politics."
The next day, he penned an opinion article for Newsweek. [Brown] was frightened of losing sponsors or media attention for getting caught up in something unrelated to him.
"I have no interest in leading some political war," Brown wrote. I race. I won't endorse anyone, and I won't advise anyone how to vote.
I will no longer remain silent about my condition and why millions of Americans are singing my name. Even if Washington doesn't."
Following a livestreamed phone call between Biden and Jared Schmeck, a 35-year-old father from Oregon, the "Let's Go Brandon" cry has gained newfound political importance.
Schmeck called in to a live "Santa tracker" event starring the President and First Lady Jill Biden, and was picked to talk to the first family.
After both Bidens wished him and his family "a lovely Christmas," Schmeck answered with "Merry Christmas" followed by the coded phrase, "Let's go Brandon!"
That is, "F**k Joe Biden," however Schmeck subsequently told an Oregon newspaper that he uttered the statement "jokingly."
"Donald Trump is my president and he should still be president right now," he remarked on Steve Bannon's programme.