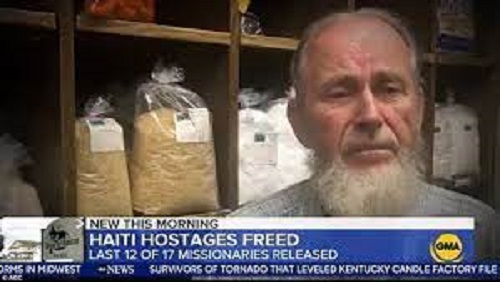 The last 12 missionary hostages kidnapped in Haiti two months ago were freed on Thursday, according to a US missionary group and a Haitian police official.
"We praise God for answered prayer—the remaining 12 Missionary Hostages are FREE!" stated Christian Aid Ministries, located in Ohio, in a statement posted on its website. "Every one of our 17 loved ones is now safe."
The 400 Mawozo, or 400 rural bumpkins, kidnapped the 16 American and one Canadian captives, including five children, in October. The youngsters varied in age from eight months to fifteen years old at the time of the kidnapping.
According to Haitian officials, the gang sought a $1 million ransom each individual. In a YouTube video, the gang's leader stated that if his demands were not satisfied, he was prepared to kill the captives. It was unknown whether a ransom was paid. According to Haitian experts, the gang would not have released Missionary Hostages without cash.
According to the missionary group, five of the Missionary Hostages were released in recent weeks.
Garry Desrosiers, a spokesperson for Haiti's national police, declined to comment more. The Federal Bureau of Investigation did not reply quickly to a request for comment. The US Embassy in Haiti did not respond to requests for comment. The Biden administration dispatched FBI agents to Haiti to assist with the captive rescue.
According to Haitian radio stations, the gang released the 12 missionaries in an arid area on the outskirts of Port-au-Prince. They were discovered "early this morning by residents in the region of Morne a Cabrit," a lonely slope known as Goat Mountain about an hour's drive north of the city, according to Radio Tele Metronome.
The release puts an end to the Biden administration's worldwide political nightmare and is good news for Haiti, one of the world's poorest countries. Since the killing of President Jovenel Mose in July, the country has been facing one of the biggest political and economic crises in its history. Mr. Mose's murder remains unsolved.
Nearly 200 criminal gangs control more than half of the country. Since the killing, gangs have abducted hundreds of Haitians, taking no prisoners, wealthy or poor, and terrorising the country.
According to Brian Nichols, the senior State Department official for the Western Hemisphere, at least 41 US nationals and lawful permanent residents have been abducted for ransom in Haiti this year.
According to Gédéon Jean, the president of the Center for Analysis and Research in Human Rights, a Port-au-Prince-based group that analyses kidnappings, a ransom was likely paid in the case of the missionaries. He claims that a ransom has been paid in every case when an American has been abducted since 1973.
"They would not release them until they were paid," claimed Pierre Esperance, director of the Haitian National Human Rights Defense Network, an advocacy organisation.
According to Mr. Jean, the abduction victims' deteriorating health conditions as a result of their ordeals may have also played a factor in their release. "The 400 Mawozo know they can't afford to lose even one American captive," he claimed. "They are well aware that if they cross that line, the United States would retaliate vehemently."
He said that the FBI must have had a tough time getting the release of the captives since Haiti's police force is unable to cope with kidnappings and, in many situations, cannot be trusted. "Some police officers are involved in kidnappings," Mr. Jean stated.
According to Mr. Jean, at least 803 individuals have been abducted in Haiti this year as of the end of October, including 54 foreigners. According to an individual who helps to handle abduction cases in Haiti, around 20 people are taken every day. Analysts predict that if members of the 400 Mawozo gang get away with kidnapping the missionaries without being arrested, abductions would grow even more, particularly targeting foreigners.
G9, a formidable alliance of gangs, barred access to the country's major petroleum terminal, causing terrible shortages throughout the country. Hospitals and other institutions had to substantially reduce their operations, while fuel prices skyrocketed to $25 per gallon. Jimmy Cherizier, the G9's leader and a former cop known as Barbecue, ultimately withdrew the barricade.
Earlier this month, the governments of the United States and Canada advised their nationals to leave the country. According to immigration experts, Haiti's worsening economy and fall into violence would undoubtedly encourage increasing migration to the United States. In fiscal year 2021, which ended in September, 1,500 Haitians were detained at sea on route to the United States, more than three times the amount apprehended the previous year.
According to top Haitian authorities, President Biden has bluntly denied any military participation in Haiti, a country of more than 11 million people, but has increased financial and technical help to the troubled Caribbean country. Since Mr. Mose's killing, the United States has spent around $50 million to upgrade the national police's training and skills.