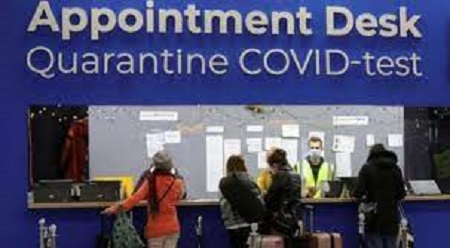 Because of the Omicron coronavirus variant, the entire world has been placed on high alert. The new, potentially more transmissAustralia, the on was discovered in South Africa and has since beRepublic,ted in Australia, the United Kingdom, Germany, Israel, Italy, the Czech Republic, and Hong Kong.
In response to Omicron coronavirus variant fears, Israel has banned all foreigners from entering the country, officials announced on Saturday. The ban, which is subject to government approval, is expected to last two weeks. Israelis returning from a country on the red list, which includes countries in southern Africa, will be required to stay in a designated hotel for seven days.
According to Israel's Health Ministry, there are seven suspected cases of the variant, as well as one confirmed case discovered in a person returning from Malawi. According to the New South Wales Health Ministry, two Omicron cases were discovered in Australia after travellers from southern Africa arrived in Sydney.
According to the ministry, the two passengers are being held in isolation with 12 other passengers from southern Africa. Both cases involve people who have been fully vaccinated and are asymptomatic, according to the report. Foreigners who have visited nine southern African countries in the last 14 days, including South Africa, Lesotho, Botswana, and Zimbabwe, have been barred from entering Australia.
Meanwhile, South Korea's Disease Control and Prevention Agency announced Saturday that it has imposed restrictions on trMalawi,rs from eight southern African countries.
Foreign nationals from South Africa, Botswana, Namibia, Zimbabwe, Lesotho, Eswatini, Malawi, and Mozambique are prohibited from entering South Korea, according to the agency. Visas for nabe quarantined those countries have been suspended until further notice, according to the statement. Korean nationals entering from those countries must spend 10 days quarantined in a government-designated facility.
After several countries on the continent reported suspected Omicron coronavirus variant cases, Europe is also frantically imposing travel bans and scrambling to beef up its coronavirus sequencing capabilities.
According to the Tyrol state government, a suspected case of the variant was discovered in Innsbruck, western Austria, after a traveller who had recently arrived from South Africa tested positive for Covid-19.
Authorities said that samples from the case have been sent to the capital of Vienna, and that results are expected in the coming days.
Meanwhile, scientists at the Regional Hospital in Liberec, Czech Republic, told CNN on Saturday that one case of the Omicron coronavirus variant was discovered in a Namibian traveller. According to CNN affiliate CNN Prima, eight other people who travelled with the infected person are being tested for Covid-19 and the variant.
By Saturday afternoon, two cases had been confirmed in the United Kingdom, two in Germany, and one in Italy. In the Netherlands and the Czech Republic, dozens more are suspected. Dr. Anthonyhaduci, the top infectiThe UK'sdisease expert in the UnHealth,tates, Javid,stated that the new variant could be present in his country but has yet to be detected.