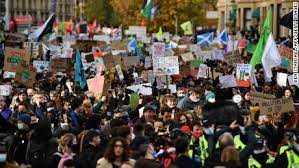 Greta Thunberg leads a protest outside the COP26 climate conference, placing young activists in the spotlight. Thousands of protesters marched through the streets of the Scottish city on Friday, many holding signs warning of the dangers of increasing temperatures and extreme weather occurrences.
Greta Thunberg, an eighteen-year-old campaigner, was scheduled to speak to demonstrators later, more than three years after she established the "Fridays for Future" school strike movement that mobilised young activism against climate change.
As they sought to gain attention near the site, crowds screamed "We are unstoppable, another world is conceivable" and other slogans. A substantial police presence kept crowds in check as they surged throughout the morning.
Daisy Deakin, a 7-year-old girl from Glasgow who was accompanied by her mother Isabel, said she came to the rally to meet Thunberg. "She saves the globe from climate change," she told CNN, holding a banner that said, "Save our planet."
"Our parents will pass away as a result of old age. Climate change will kill our children "Maia Runciman, 22, originally from Texas and currently living in Glasgow, warned with a placard.
"I talk to dissatisfied people all the time, and I consider myself one of the frustrated," US climate envoy John Kerry remarked in reaction to protestors outside.
Leaders have so far declared a number of climate promises during the summit, including a commitment to deforestation, a coal agreement, and a proposal to stop investing public funds in foreign fossil fuel projects.
Many young activists, however, are calling for more radical pledges, as the United Nations cautions that the globe is not adjusting quickly enough to the climate catastrophe.
Greta Thunberg address on Friday comes after a week of mobs from fans and members of the media.
On Monday, the activist joined fellow "Fridays for Future" protesters for a demonstration in Glasgow's Festival Park, near the UN climate summit, where she criticised politicians for their climate inaction once more.
Greta Thunberg said that the leaders and participants at the COP conference were "pretending to take our future seriously."
"Change isn't going to come from inside. This is leadership, not management "Thunberg said, alluding to the demonstrators gathered outside.
"This is what it means to be a leader. We say, "No more blah, blah, blah, blah, blah, blah, blah, blah, blah, blah, blah, blah, blah, No more of whatever the f**k they're up to within there "She went on.