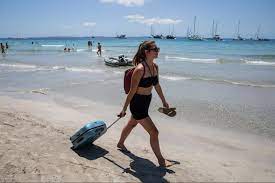 The green and amber lists might be eliminated as part of a reorganisation of travel regulations. Grant Shapps, the Transport Secretary, has announced a streamlined method for overseas travel from the United Kingdom.
He stated that the move was feasible given the success of the domestic vaccination rollout and that it would provide greater stability for the sector and passengers.
The present traffic light system (green and amber) will be replaced by a single red list of countries and territories on October 4th, with the changes taking effect.
Testing requirements will also be reduced for fully vaccinated qualified travellers, who will no longer be required to perform a PCR test when visiting England.
From the end of October, qualified fully vaccinated travellers and those with an approved vaccine from a small number of non-red countries will be allowed to substitute a cheaper lateral flow test for their day two test, lowering the cost of tests upon arrival in England.
The government intends to implement this by the end of October, with the goal of having it in place when people return from half-term breaks.
Anyone who tests positive will be required to extract and conduct a confirmatory PCR test, which will be genomically sequenced to help identify novel variations, at no additional cost to the traveller, according to the government.
Pre-departure tests, day two and day eight PCR tests will be used to screen unvaccinated travellers from non-red nations.
To shorten the period of self-isolation, a test to release remains a possibility.
Following the success of an existing pilot with the US and Europe, England will welcome fully vaccinated travellers from a host of new countries – who will be treated like returning fully vaccinated UK travellers – beginning October 4th, including 17 countries and territories such as Japan and Singapore.
"This shift means a simpler, more straightforward system," Shapps explained.
"One with less testing and lower prices, allowing more people to travel, see loved ones, or conduct business throughout the world while boosting the travel industry."
"With more than eight out of ten adults vaccinated in the UK, we are now ready to adopt a proportionate updated structure that represents the current landscape."
Shapps went on to say that there would be another evaluation "early in the new year" ahead of the summer season.