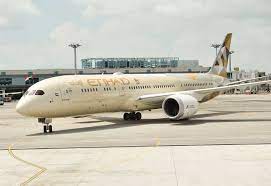 Etihad Airways anticipates an increase in travel to and from Abu Dhabi. Following the abolition of quarantine rules for all vaccinated travellers arriving from outside.
Travelers who have been fully vaccinated (with vaccines recommended by the World Health Organization) can enter from any overseas destination without being quarantined.
All travellers will be required to have a PCR test within 48 hours of departure, a test upon arrival, and retesting on specific days based on the nation from which they have travelled.
Unvaccinated travellers, on the other hand, must respect the rules of the country from where they are travelling.
"The news is perfectly timed to begin welcoming the world back to Abu Dhabi," said Tony Douglas, group chief executive officer of Etihad.
"We anticipate a significant increase in demand from visitors and visiting friends and relatives from around the world.
"This will also provide UAE residents with greater flexibility and peace of mind when travelling around the world."
He went on to say, "The emirate has provided one of the world's top public health programmes to protect the population with an incredibly high vaccination rate, as well as clever technologically-driven solutions like the Al Hosn app to assure the safety of residents and visitors."
"This is a significant step forward as the UAE prepares to host EXPO 2020, the Formula 1 Etihad Airways Abu Dhabi Grand Prix, and numerous other worldwide events in the coming months."
The Etihad Wellness programme, which was launched to assist restrict the spread of Covid-19, is supported by flying with Etihad.
To safeguard the inflight environment, which is today recognised as one of the best in the world, the airline demands that 100% of its passengers pass a PCR test before boarding.