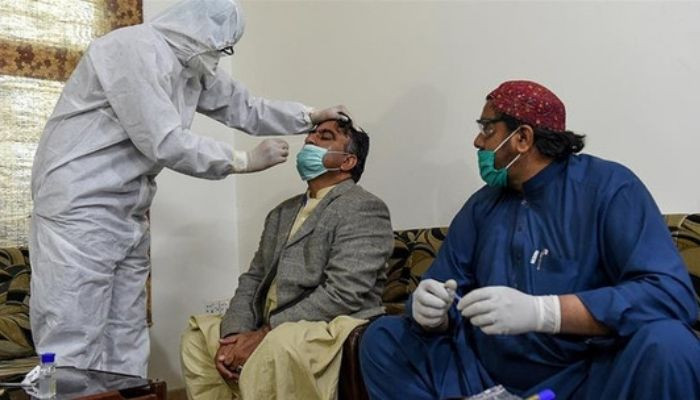 In Pakistan, the number of people getting coronavirus cases doubles every week on average. A top health official says this could put a strain on the country's healthcare system in two weeks.
In spite of Geo.tv not being able to get the exact number of Omicron infections in Pakistan, its director of health said that it doesn't matter how many people have the disease right now.
Over the phone, he told Geo.tv that whenever he tests for the virus, he finds it. He said that all the surges of the virus in major cities in the country at the moment are caused by the new variant.
Since December 13, when the first cases of the variant were found, 511 cases of Omicron have been recorded by the Punjab health department in Pakistan alone. This is based on data from Punjab's health department.
Late last year, there was a big drop in the number of people who got sick with the coronavirus and died. However, this month, there was a sudden rise in infections. On Sunday, for the third day in a row, the country reported more than 4,000 new coronavirus cases in a single day for the third time. When it comes to Karachi, which is the country's most populous city, it had a positive rate of 39.4% on Saturday.
International studies so far show that the Omicron offshoot is milder than the other variants, and has so far led to fewer hospitalizations and deaths.
The director general of the World Health Organization (WHO) says that even tho Omicron isn't as bad as Delta, it's still a "dangerous virus," especially for people who haven't been vaccinated. If transmission isn't stopped, a new variant could emerge that could be even more spreadable and deadly than the Omicron.
It doesn't matter that the new variant is "five times less powerful" to cause a severe disease because it can still spread "enormously," says Dr. Safdar.
"So, there is a good chance that the country's healthcare system will be under more stress in two weeks."
The head of health told people to wear a mask, stay away from groups, and get vaccinated with a booster as soon as possible.
According to data from the National Command and Operation Center, Pakistan had fully immunized 36 percent of its people and 47 percent of those who were eligible by January 4, which is when they were all fully vaccinated.