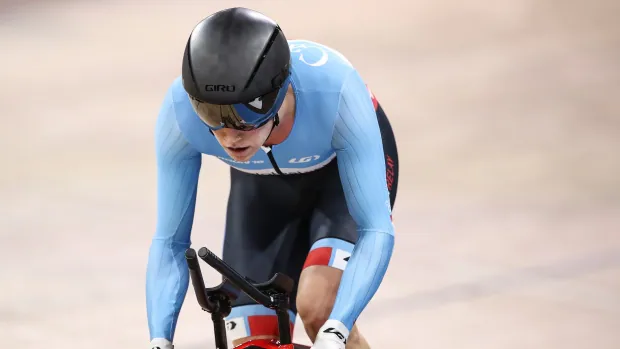 Canadian multi-sport athlete Georgia Simmerling has announced her retirement from professional sport.
After a fourth and final appearance at the Tokyo Games, the Vancouver, B.C. native, who became Canada's first Olympian to compete in three separate sports across three successive Games in 2016, is bringing her stellar career to a close.
Simmerling finished fourth in the women's team pursuit while also breaking the Canadian record at the velodrome in Japan alongside her teammates.
"I am ecstatic to be able to end my career on such a high note," she said in a statement.
"I personally felt quite delighted with how I rode and had no regrets after the Tokyo Games. I was ready to move on to new adventures and conclude this chapter of my life; I am happy to announce my retirement from sports and discuss what I have been working on. For now, all I can say is that it's time to invest in women's sports, and I'm excited to be a part of it."
Simmerling, 32, debuted as an alpine skier at the 2010 Winter Olympics in Vancouver.
After switching to ski cross, the Canadian went on to win 13 World Cup podiums and secure a spot in the 1/8 finals in Sochi 2014.
Hers has been a story of perseverance and rehabilitation. Simmerling damaged three vertebrae in her neck and back in a car accident in 2012.
The gifted competitor added track cycling to her armoury in 2015 after being plagued by injuries, and her rise in the discipline was spectacular.
Simmerling earned silver with the team pursuit squad at the 2016 World Championships, and then bronze at the 2016 Olympic Games in Rio de Janeiro – her first and only Olympic medal.
She didn't let up the following winter sports season, putting on a show that earned her a spot in Pyeongchang.
Simmerling, on the other hand, didn't make it to the Olympics, breaking both of her legs and tearing ligaments in a ski-cross competition just weeks before the Games. Simmerling, who is now undergoing physical and emotional recovery, said she never gave up and was determined to return to athletics.
Simmerling returned to cycling after quitting from ski cross, winning silver in the team pursuit at her first international race following Rio.
The perennial podium threat had intended to retire, but the Tokyo Olympic Games were postponed because of the COVID-19 pandemic.
Despite training in pandemic circumstances, Simmerling, along with teammates Allison Beveridge, Annie Foreman-Mackey, and Ariane Bonhomme, arrived in Tokyo as part of the strongest cycling group Canada has ever sent to the Games.
She now hopes to go to Europe with her fiancé, Paris Saint-Germain goalkeeper Stephanie Labbé, who won Olympic gold with Canada's women's soccer team in Tokyo, according to Cycling Canada.