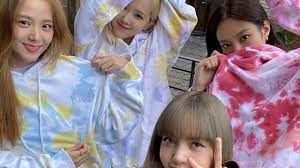 Blackpink's Jennie, Kristen Stewart Snap Selfies at Chanel. Kristen Stewart wore pink hair to Chanel's event, where she snuck into the front row a few minutes late.
"Today, we kind of let the clothes inform the hair. "A tweed suit can be pretty ladylike, so I wanted to find a way to flip it inside out," said the actress, who always adds a punk element to her outfit.
The actress has just returned from the Met Gala, where she dressed like a modern Barbie, and the Venice Film Festival, where she celebrated the triumphant debut of her Princess Diana film "Spencer."
While she misses Karl Lagerfeld, who she describes as "so personal and genuine and generally f–king gorgeous," she says working with Chanel creative director Virginie Viard has been energising.
"She's a bit of a rock star. Even though she's quiet and understated, I get a feeling she's been on stage with a microphone in a previous life. She doesn't want to simply perpetuate the concept of French femininity, comfort, and effortless grace; instead, she conveys a really dynamic storey." Stewart stated she felt "enlivened" when a rendition of George Michael's "Freedom! '90" blasted at the end.
"I was truly affected because people in our field tend to feel a little bit on a leash, and this just felt released with these girls just flinging their hair around and laughing."
Despite the fact that the film represents a tragic period in Diana's life, Stewart exhibited much of the same playfulness. "I didn't expect to feel ten feet tall. She have a God-given ability to connect. "I got to taste that for a second, and it felt amazing," she added, dismissing any early awards season buzz with a customary shrug.
On and off set in Germany, Stewart embraced Diana's flair. "Every day, we dressed in English-forward attire. I've always enjoyed a loafer, a tweed coat, and a bike short, but now I really, truly adore all of these things."
Backstage, Blackpink's Jennie and Stewart posed for selfies. "I'm somewhat of a fangirl for her. I love her and I finally got to meet her, I'm really happy," added Jennie, who described the raised catwalk inspired by the 1980s "the most dynamic show I've ever seen."
"As a performer, I never get to be in the crowd and feel that enthusiasm; to be on the other side and see the gorgeous models walking, it just brings back the energy that I've been missing for the previous couple of years," she explained.
Due to COVID-19 regulations, Blackpink has been unable to play in front of an audience, but the group did hold an online performance earlier this year. The rehearsals were similar, she recalled, but the reality hit her hard when the event began. "Normally, no matter how you feel in the morning, when you walk on stage, it's like, forget it, because you're like talking with the crowd, but this time was difficult. I was just looking into the camera the whole time, so I was concentrating on how I looked and how I was doing, so it was pretty different, I think."
Jennie has been spending hours on YouTube, anticipating the opportunity to perform in front of her admirers once more. "I watch old concert recordings because I miss it so much; I want to feel that enthusiasm again." The singer, who "had a dinner date" with bandmate Jisoo earlier this week in Paris, says they're in the studio and will release new music "at the proper time."
Kristine Froseth has been seeing the sights of Paris while training for the New York City Marathon on November 7. "The architecture is wonderful; it really takes my mind away from the pain," she said as she prepared for her first run, which will benefit the Shoe4Africa organisation.
Froseth recently completed a still-untitled project with Lena Dunham, and before that she was in "The First Lady," in which she played a teenage Betty Ford opposite Michelle Pfeiffer. While the two did not appear in any scenes together, Froseth said she and Pfeiffer worked closely together, reading books and consulting with history professors to learn more about one of America's most mysterious presidential ladies.
"I like what she did in [founding] the Betty Ford Center and how she spoke about addiction and everything else that women didn't really talk about at the time. "I'm in awe of how she handled it," she remarked. Working with encouraging ladies like Dunham and Pfeiffer has been a blessing.
Whitney Peak was not only attending her first fashion show, but she was also visiting Paris for the first time. "A lot of major firsts," the Vancouver native added. "It was never something I felt I could go to, and I'm glad I didn't because this is the way to do it for the first time."
Peak remarked that her favourite aspect of French culture is the country's devotion to meals. "Eating here takes a long time, like four hours." Peak, who is currently in Rhode Island for a film production before returning to work on "Gossip Girl" in January, said she will take the memories with her. "I'm just going to be in my flat thinking, 'Sigh, oh, I wish I was back in Paris.'"
SEE MORE: