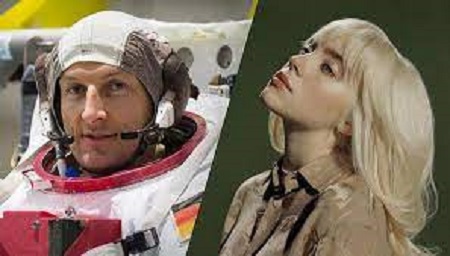 Billie Eilish Receives the German Sustainability Award from Space. Düsseldorf, Germany, November 30, 2021 – In recognition of her exceptional commitment to climate protection, Billie Eilish has been awarded the German Sustainability Award for the second time. Matthias Maurer (ESA), a German astronaut currently stationed on the International Space Station, will present the award in person via video conference (ISS). In a virtual presence, Billie and the astronaut will both be present at the ceremony on Friday, December 3, in Düsseldorf. The event will be broadcast live on the internet.
In the words of the award's creator, Stefan Schulze-Hausmann, "everyone is encouraged to contribute what they can to climate protection in their respective fields—a fundamental aspect that connects the astronaut and this artist."
Billie Eilish, one of the most successful musicians in the world, is an outspoken advocate for climate protection and greater sustainability. Because she is a role model for billions of young people around the world, she is using her platform to draw attention to the urgency of the current situation. In addition, she and her team make a concerted effort to make their tours as environmentally friendly as possible. Through social media, astronaut Matthias Maurer (European Space Agency) and the International Space Station (ISS) team share insights gained while in orbit, as well as conduct experiments that support sustainable development and aid in climate change mitigation.
The German Sustainability Award, which is considered Europe's most prestigious award for environmental and social commitment, will be presented for the 14th time on Friday, December 3. It recognises individuals who have made significant contributions to the transformation toward a more sustainable future. In addition to Billie Eilish, this year's honorary awardees include the President of the European Commission, Ursula von der Leyen, and climatologist John Schellnhuber. As a result of the high number of COVID-19 infections in Germany, the event will take place in Düsseldorf under extremely strict safety conditions.