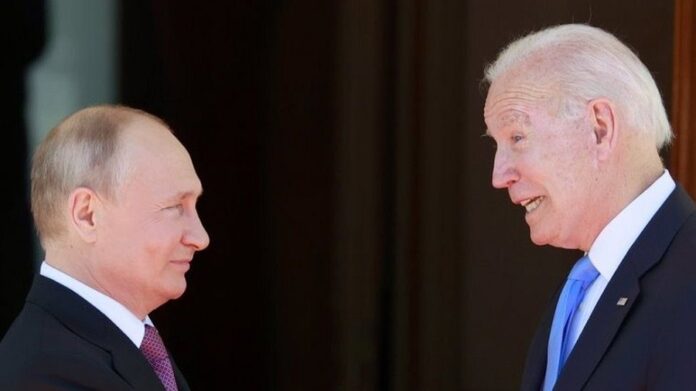 President Biden and Russian President Vladimir Putin plan to meet Thursday ahead of high-level talks to address what one senior US source called a "crisis" over Russia's military buildup near Ukraine.
The Russian side sought the Biden-Putin call, according to a senior Biden administration official on Wednesday. It takes place at a time when Moscow has pressured the United States to rule out the possibility of expanding the North Atlantic Treaty Organization to include Ukraine and Georgia, as well as to reduce military links with those nations and other former Soviet republics.
Following weeks of negotiation, the United States and Russia agreed this week to hold security talks in Geneva on January 10. Despite repeated US calls to de-escalate, the Russian military has maintained an intimidating military posture near Ukraine, according to US officials.
"We are in a crisis, and have been for some weeks given Russia's buildup," a senior administration official said. "Addressing this and attempting to establish a route of de-escalation will need a high degree of participation."
According to the person, the Biden administration recognises the relevance of leader-to-leader conversations and that the US is cooperating with allies and keeping them informed. To that aim, Secretary of State Antony Blinken talked with Ukrainian President Volodymyr Zelensky on Wednesday on planned talks with Russia. Former officials saw the scheduled Thursday conversation as part of a larger Russian attempt to rewrite the rules of Europe's post-Cold War security agreements and build a sphere of influence on its perimeter.
"It looks to be an effort by Putin to control the agenda for the next negotiations," said Jim Townsend, a top Pentagon official on NATO and European security during President Barack Obama's administration. "By requesting the call, he is taking the initiative.
Dmitry Peskov, Russia's presidential press secretary, downplayed the significance of the phone contact.
"This talk is unlikely to result in any breakthroughs." This is a work-related dialogue taking place at a tough time. Tensions in Europe have reached historic heights. It is astounding. Of course, this necessitates personal communication at the highest levels," Mr. Peskov told reporters, according to Interfax.
Russia's military buildup near Ukraine gained traction in the late fall, fueling current tensions and prompting some US and European officials to warn of an invasion. While Russia denies any intentions for an invasion, Mr. Putin has stated that if the West maintains its "aggressive posture," he is prepared to use "military technological measures."
Thursday's talk will be the two leaders' second this month, amid concerns over Russian military stationed near Ukraine. A military buildup near Ukraine's border is straining relations between Russia and the United States, after conflicts over cybercrime, expulsions of diplomats, and a migration crisis in Belarus. The Wall Street Journal analyses what is widening the divide between Washington and Moscow.
Following his video discussion with Mr. Putin on December 7, Mr. Biden ruled out deploying combat troops to Ukraine. According to US sources, Mr. Biden vowed to apply harsh economic penalties, increase defence aid to Ukraine, and boost positions on the territory of NATO's Eastern European members if Russia launched an attack on the country.
Russia has sought direct negotiations with the US about its demands, which it has formalised in two memos and made public on official websites and through social media.
To dispel any notion that Moscow might force a gap between Washington and its friends, the Biden administration has planned for negotiations to take place through three channels.
The first direct US-Russian discussions will take place on January 10 and will most likely be conducted by Deputy Secretary of State Wendy Sherman, who will meet with Sergey Ryabkov, Russia's deputy foreign minister.
Following those conversations, the NATO-Russia Council will meet in Brussels on January 12. The multi-governmental Organization for Security and Cooperation in Europe, of which Ukraine is a member, will host discussions on January 13.
There is no indication that the two sides have been able to narrow their differences over Moscow's demand that NATO break its military links with Ukraine and Georgia, as well as revoke previous promises that they will ultimately join the alliance.
According to a senior administration official, reversing Russia's buildup isn't a need for discussions, but it would create a fruitful environment for them.
"Concrete progress is inextricably linked to de-escalation," the official said, adding that Russia's position near Ukraine was not static and "remains a continual cause of significant worry."
Russia has massed soldiers near Ukraine, which US authorities estimate to be over 100,000 and predict to be 175,000 for an invasion, with battalion tactical units functioning as front-line forces. According to US authorities, Russia has 53 battalion tactical groupings along the Ukrainian border. Each group consists of around 800 soldiers.