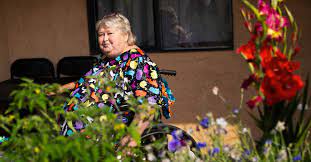 Rosemary Dyer sat on her Chesterfield sofa, her motorised wheelchair nearby, admiring the dazzling peacock figurines she had purchased on her first solo trip to San Francisco's Chinatown after leaving prison, and the beautiful tablecloth with silk flowers in her new living room.
Dyer, a bubbly woman with a wicked sense of humour, brought these and other valued possessions to Home Free, a new transitional living complex in San Francisco. It was created for women who have been imprisoned for the murder of an abusive partner or for being at the scene of a crime while under the influence of an abusive husband or lover. Dyer was convicted of murder and sentenced to life in prison without the possibility of parole in 1988 for the 1985 shooting death of her husband of eight years, who had tormented and tortured her, at a time when evidence of domestic violence was not permitted in California courts.
Her life was defined by the subtle viciousness that included being beaten repeatedly and sodomised with a loaded firearm. Her husband had dug a grave in the backyard, claiming that he planned to bury her alive.
Five Keys Schools and Programs, a statewide charity that provides education, vocational training, rehabilitative programmes, and housing for jailed persons and the recently released, founded Home Free, where Dyer's 2020 commutation from Gov. Gavin Newsom sits proudly on the wall. The five-unit complex of two-bedroom flats is the culmination of years of activism by survivors of intimate partner violence and organisations that work with them.
"The fact that women who were subjected to horrible brutality were not allowed to bring in evidence of the abuse is the fundamental unfairness," said Sunny Schwartz, founder of Five Keys. "We were determined to create a colourful, dignified, and safe home, a place that screams, 'You're worthy.'"
Previously, women's transitional housing alternatives were mostly limited to those in treatment for addiction. Home Free, located on Treasure Island, a former Naval facility in San Francisco Bay, was founded last year during the epidemic on a $750,000 start-up budget, including personnel. Nearly 100 volunteers — architects and landscape architects, flooring and cabinetry installers, plumbers, haulers, electricians, and city construction apprentices — helped refurbish the formerly filthy flats. They had all assembled on this strange island, which had been erected for the 1939 Golden Gate International Exhibition.
Interior design students from the Academy of Art University in San Francisco worked on the project for a semester, participating in Zoom mini-charettes with Irving A. Gonzales of G7 Architects. They also discussed ideas with the women, who wanted full-length mirrors.
"We needed colour!" exclaimed Dyer, who paid a visit to the construction site while still in temporary accommodation. Gray, a colour associated with metal jail bunks and lockers, was particularly repulsive to her and others.
Dyer, a 69-year-old cancer survivor with congestive heart failure, has been confined to a wheelchair since injuring her hip in prison. Upon arrival, tourists are greeted by a massive pirate flag, a homage to the Treasure Island motif. Her accessible flat is next to a patio where she produces tomatoes and radishes in pots.
Hyunch Sung of the firm Mithun developed the landscape, which features ten different tree types. (Because the soil on Treasure Island has been contaminated by industrial pollutants, the trees are planted in brightly coloured containers.) Sung explained that she treated her job at the company as if she were creating for high-end clientele. "Beauty is undervalued in underprivileged communities," she says.
Nilda Palacios, 38, who lives upstairs, described her decision to join the complex as "emotionally stirring." She was assaulted as a youngster by an uncle and stepfather, and then raped by a high school teacher when she was 15 years old. The teacher's difficult trial caused her to turn to drugs and drink. Palacios felt depressed and contemplated suicide. When a panhandler cornered her one day, she mistook him for an assailant and "lashed out," strangling him. She was found guilty of murder in the second degree. She was imprisoned for 17 years and benefited from therapists who assisted her in understanding "how the depth of my crime was tied to my history," she claimed. "I got someone who wasn't a threat mixed up with someone who was."
Palacios was granted parole. She has benefited from a broader vision for Home Free, which now accepts women like her whose offences were directly related to their abuse.
She was "shocked" by the idea of a private bedroom after years of sharing an 8-x-10-foot cell and stuffing all her belongings into a six-cubic-foot box, with "your underpants right against the noodles and peanut butter," as one current inmate put it.
"How can this be my room?" Palacios remembered. "It seemed like a real home to me."