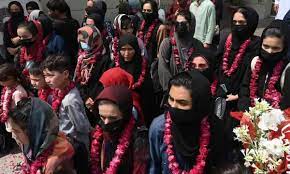 Afghanistan women's football team granted UK visas
"We are working hard to finalize visas for the Afghanistan Women's football Team and hope to welcome them to the UK soon," a UK government spokeswoman told CNN.
"The government is committed to doing all possible to assist those in most need, including vulnerable women and girls, as well as those at danger who have been forced to abandon Afghanistan."
In August, the UK government proposed a relocation programme for Afghan residents who face "threats of Taliban persecution."
The UK will accept 20,000 refugees over the next five years under the plan, which prioritises women, girls, and religious minorities.
According to the ROKiT Foundation, a UK-based organisation that is assisting, 35 young footballers, largely teens, and their families — a total of 130 individuals — missed the airlift evacuations from Kabul in August.
READ: How a "ragtag bunch" assisted in the evacuation of the Afghanistan Women's football Team.
"With the help of some very brave people on the ground in Afghanistan, the girls made the risky trek in small groups to the Pakistan border and were all eventually able to get through," said Jonathan Kendrick, founder of the ROKiT Foundation.
According to Kendrick, Pakistan granted the athletes and their family temporary 30-day visas and brought them to Lahore before filing for UK visas.
With the approved visa application, Kendrick stated that the second step of the operation would be the "secure accommodation of the girls" in Pakistan before the third phase, which would take place in "the next couple of weeks," of the girls' migration to the UK.
Afghanistan's women's captain, Khalida Popal, who is now based in Denmark, tweeted: "These girls have been through a lot and deserve the best. They have the right to fantasise. Thank you to the UK government for agreeing to be their host country. Thank you to the incredible organisations that made this possible."
The ROKiT Foundation's CEO, Siu-Anne Marie Gill, stated that the charity would continue to provide assistance in the UK, "including assisting in the arrangement of further education as well as trials for the players with several of the English professional women's football teams who have already expressed great interest in meeting them."
Andrea Radrizzani, head of English Premier League club Leeds United, petitioned the UK government last month to assist the girls in resettling in the nation.
The Leeds owner stated in a statement to CNN that he was "willing to support the girls of Afghanistan Women's football Team in any way we can to provide them a bright and peaceful future."