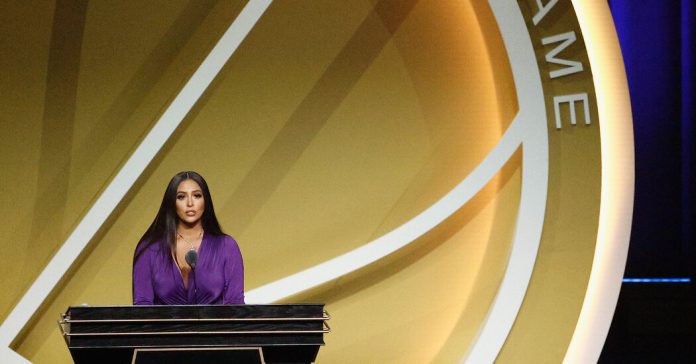 Vanessa Bryant Describes Learning of Kobe and Gianna's Deaths in Deposition. One of the most controversial questions, which has been the topic of multiple court papers in recent days, is whether the county may do what are known as independent medical examinations, which include mental evaluations of each of the plaintiffs.
Bryant's attorneys contend that the examinations are "cruel," and that the county is sending a message by asking them. "When public employees violate the private and constitutional rights of the residents they promised to protect and serve, victims must traverse a gauntlet to seek justice," Vanessa Bryant attorneys stated in one of the submissions.
According to documents, the county claims that the examinations are "a standard element of the discovery process." Bryant and the other plaintiffs claim they suffered emotional distress as a result of county workers' acts, and the county feels a medical professional should be permitted to assess the level of their suffering.
At times, Louis Miller, an attorney with Los Angeles County, expressed regret for interrogating Bryant. At one point, Miller stated, "It's not harassment." "It's only a lawsuit." And I'm sorry for putting you through this, but like I stated at the outset, I have to do my job."
Vanessa Bryant stated that after being told she would be unable to travel to the accident scene, she spoke with Rob Pelinka, the Lakers general manager who acted as Kobe's agent for a portion of his NBA career. Bryant claimed Pelinka drove them for an hour and 45 minutes to the sheriff's department in Malibu, near the collision site.
Bryant stated at the sheriff's station that "no one would answer" queries regarding her husband and daughter. She was brought back and forth between rooms, and after what she described as a long wait, a priest entered, followed by Los Angeles County Sheriff Alex Villanueva and a publicist. Bryant expressed a need for solitude and asked the publicist to leave the room.
Vanessa Bryant stated that Villanueva verified the killings and asked if he could do anything for her.
"And I told them, 'If you can't bring my husband and baby back, please make sure no one takes pictures of them.'" 'Please secure the place,' Bryant remarked during his deposition. "And he said, 'I will.'" 'No, I need you to get on the phone right now, and I need you to make sure you protect the area,' I added.