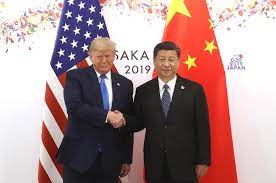 U.S. Wants New Trade With China, But Will Keep Tariffs. The Biden administration began clarifying its China trade policy on Monday, saying it intends to restart discussions with Beijing but will maintain existing tariffs while also reinstating the option of US importers to request exemptions from those duties.
Ms. Tai stated that the US would force China to carry out obligations made as part of the Phase One agreement inked in January 2020, including keeping heavy tariffs imposed by Mr. Trump on roughly half of China's exports to the US. However, she stated that no plans were in the works to begin an investigation into Chinese trade practises, which had been discussed inside the administration.
"We will utilise the full range of instruments at our disposal, as well as build new measures as needed, to defend American economic interests against destructive policies and practises," Ms. Tai said in a speech at the Center for Strategic and International Studies in Washington.
At the same time, she stated that the US will reopen a mechanism for US corporations to seek tariff exemptions. This exemption procedure came to a stop after President Biden took office, prompting protests from manufacturers and others who claim there are no cost-effective replacements to some Chinese components.
She, for example, declined to initiate the Phase One agreement's permitted enforcement action. She also postponed for the time being an administration intention to launch a trade campaign to persuade China to limit its use of industry subsidies.
"She provided a reasonable overview of the inadequacies of China's implementation of commitments" under the Phase One agreement, according to the report.
Mr. Daniel Rosen,
a partner at the Rhodium Group, a China-based research firm "However, she didn't provide any specifics on how to proceed."
"This administration is learning some of the same things we learned over the course of four years" by preserving the tariffs, said the president.
Shaw, Kelly Ann
a former senior trade adviser in Trump's administration who is now a partner in Hogan Lovells' international trade practise. "Taxes are a blunt instrument, but they appear to be the only tool we have."
Ms. Tai's statements were met with relief and caution in Beijing. Some officials saw encouraging indicators in her refusal to accuse China outright of failing to satisfy the Phase One agreement and her desire to continue trade discussions with her Chinese colleague. On Monday, the Chinese Embassy in Washington did not respond to a request for comment.