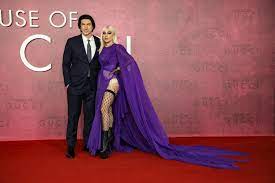 This month House of Gucci has started a hot run of movie debuts. Ridley Scott's much-anticipated murder drama had its global premiere in London on Tuesday, with its star-studded ensemble turning heads with their fashion-forward red carpet attire.
Lady Gaga impressed the audience in a dark violet, chiffon turtleneck cape gown by Gucci from the label's recent Love Parade presentation in Los Angeles. The gown featured plisse, a nude see-through fabric, and crystal embellishments. She accessorised the outfit with Gucci fishnet stockings, gloves with crystal detailing, and black high platform boots.
Sandra Amador and Tom Eerebout styled her. The former has collaborated with other celebrities including Maggie Gyllenhaal and Chloe Grace Moretz.
Jared Leto, who had just walked the catwalk at Gucci's Love Parade, likewise looked stunning in an outfit by the Italian fashion brand. The Oscar winner donned a blue velvet shawl lapel jacket with tonal satin trim and matching pants over a light cream transparent wraparound shirt. He accessorised the look with grey leather boots and a silver allover crystal encrusted heart-shaped clutch. Leto also donned Gucci jewellery.
Salma Hayek looked stunning in a handmade Gucci gown with cap sleeves and silver metallic leather heeled platform sandals. She completed her ensemble with gems from the Italian label.
While his co-stars wore Gucci, Adam Driver wore a pristine, clean blue suit by Burberry. The actor was recently announced as the new face of the British brand's fragrance Burberry Hero.
Jeremy Irons, Camille Cottin, Jack Huston, and Madalina Diana Ghenea were among the other cast members that attended the premiere.
Patrizia Reggiani, Maurizio Gucci, Paolo Gucci, Rodolfo Gucci, Giuseppina "Pina" Auriemma, and Aldo Gucci are played by Gaga, Driver, Leto, Irons, Hayek, and Al Pacino, respectively.
"House of Gucci" covers the circumstances leading up to and following Maurizio Gucci's murder in 1995, which was staged by Reggiani, his ex-wife. Maurizio was the CEO of the famed Italian fashion brand founded by his grandpa, Guccio Gucci, at the time.
House of Gucci, a film produced by MGM Studios, will be released in theatres on November 24.