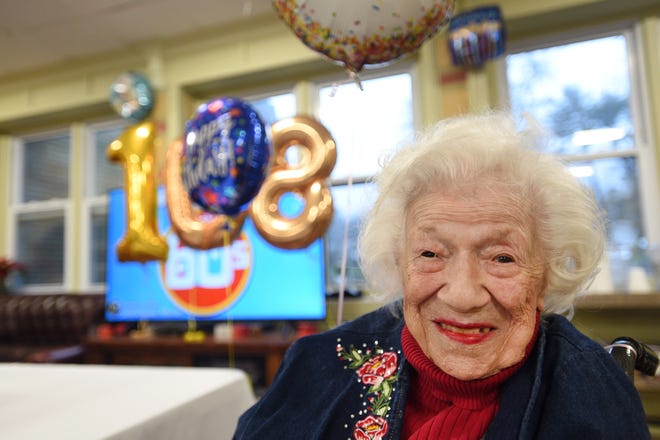 Sylvia Goldsholl survived the Spanish Flu, two world wars, and the Great Depression before beating coronavirus at the age of 108 and becoming one of the world's oldest COVID survivors.
The resident of the Allendale Community for Senior Living in Allendale, New Jersey, died quietly early Wednesday, only hours after turning 110, before she could be properly feted by the mayor and nursing facility employees, according to David Gillies, director of activities.
"She was an in-house star, many people's 'big sister,' and a passionate champion for others," Gillies added. "A free-spirited individual who enjoyed music, dancing, and sharing life's joys with others."
Goldsholl drew national attention when she defeated COVID-19 in April 2020 at the age of 108. At the time, New Jersey Gov. Phil Murphy praised "a tremendous life, a tremendous spirit, a tremendous show of strength."
"I know some readers may recall when she received a lot of press as the world's second-oldest COVID survivor," Gilies said on Wednesday.
Goldsholl, on the other hand, was a devoted friend, a loving and involved aunt, according to those who knew her best.
Goldsholl relocated to Allendale in 2010 after spending the most of her life in the Bronx, New York, in the apartment where she grew up. When she needed more care, she relocated to New Jersey.
"I didn't miss a thing," she told NorthJersey.com, part of the USA TODAY Network, during her COVID battle. "I did an excellent job."
In 2020, Goldsholl was a few months older than a 108-year-old New Mexico male who also survived the virus, but many years younger than a 113-year-old Spanish lady who also survived the illness. Lucile Randon, a French nun, has survived coronavirus at the astonishing age of 116.
Goldsholl was six years old when the Spanish Flu swept through the United States and the rest of the world, killing an estimated 50 million people.