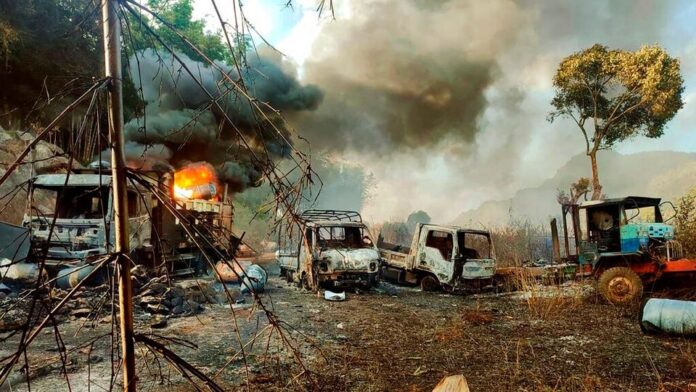 More than 30 people have been reported dead, with Save the Children personnel still missing, in a Myanmar incident.
According to the organisation, the "charred bones" were discovered and identified on December 25 in Hpruso Township in the state, also known as Karenni.
The National Unity Government (NUG) of Myanmar described it as a "Christmas slaughter in Karenni state," claiming that junta soldiers "detained an undetermined number of [villagers] and travellers and damaged their houses."
"As the world celebrates Christmas and its message of peace," the NUG statement said, "the NUG reiterates its calls on the international community to act swiftly and firmly to cease the military junta's growing war crimes and crimes against humanity against the Myanmar people."
According to official media, the Myanmar military, which took power in a February 1 coup, said it shot and killed an unidentified number of "terrorists with firearms" from the opposition armed forces in the area. According to the report, the passengers were in seven vehicles and did not stop for the military.
The Karenni National Defense Force, one of the strongest civilian militias, informed Reuters that the fatalities were not its members but civilians fleeing the war.
According to the international NGO Save the Children, two staff members who were on their way home for the holidays got caught in the event and are still missing.
In a statement, the group claimed, "We have information that their private car was targeted and burned out." "According to reports, the military dragged individuals out of their automobiles, detained some, murdered others, and burnt their remains."
According to Save the Children, at least 38 people were murdered in the incident, and the organisation has ceased activities in Kayah, Chin, and sections of Magway and Kayin as a result.
"This attack is a violation of International Humanitarian Law, according to Save the Children. We are outraged by the brutality against innocent people and our colleagues, who are devoted humanitarians who help millions of children in Myanmar "In a statement, Save the Children Chief Executive Inger Ashing stated. "Investigations into the nature of the event are ongoing, but attacks on humanitarian workers must stop."
Myanmar has been in chaos since the military deposed the last elected administration and imprisoned numerous key leaders, including former civilian leader Aung San Suu Kyi, who was imprisoned earlier this month.
Since the coup, the military has used violent force to impose its rule over the population.
Massacres, mass arrests, torture, forced displacement, men, women, and children being murdered with impunity, heavy weaponry used by junta forces to attack villages and root out armed resistance groups, and the blocking of humanitarian aid have all been documented by UN agencies, rights groups, and local journalists.
According to the advocacy organisation Assistance Association for Political Prisoners, Junta soldiers have killed over 1,300 individuals and detained over 11,000 others.