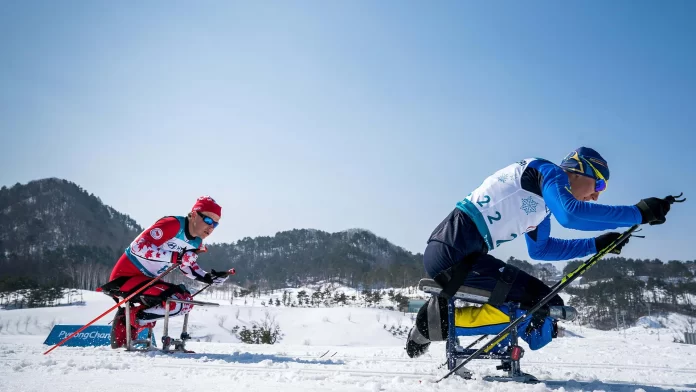 At the 2022 Winter Paralympics, Paralympians will participate in six different Paralympic sports: Alpine Skiing, Biathlon, Cross-Country Skiing, Sled Hockey, Snowboarding, and Wheelchair Curling.
Alpine Skiing
The Alpine Skiing programme includes five events (Downhill, Super-G, Super Combined, Giant Slalom, and Slalom) divided into three competitive divisions (standing, sitting and vision-impaired). Athletes use speed and agility to race down slopes at speeds of up to 100km/h. There will be 30 medal events in the Para Alpine Skiing schedule (15 male, 15 female). There will be 140 spaces for men and 80 slots for women, representing a 7.7 percent and 33.3 percent increase over the number of spots available in 2018.
Biathlon
Biathlon combines cross-country skiing with rifle shooting and is divided into sitting, standing, and visually impaired divisions. Biathlon was created in Innsbruck in 1988 for athletes with physical disabilities, and athletes with vision impairments were able to compete in 1992. Biathlon was established as a medal sport for men and women at the Lillehammer Paralympic Winter Games in 1994.
Cross-Country Skiing
Cross-country skiing made its debut in the 1976 Paralympic Winter Games in rnsköldsvik, Sweden. Athletes with physical and visual impairments are welcome to compete.
Sled Hockey
Since its debut at the Lillehammer Winter Games in 1994, the Paralympic version of ice hockey has swiftly become one of the most popular spectator sports. It is a fast-paced, extremely physical sport performed by male and female competitors with physical disabilities in the lower body. In 2022, the United States will compete in Sled Hockey for the fourth time in a row, with eight teams on the rink.
Snowboarding
Snowboarding is a sport that is performed all over the world and has three disciplines: snowboard-cross, banked slalom, and giant slalom. Athletes use speed and agility to race along courses as quickly as possible. The sport debuted at the 2014 Paralympic Winter Games in Sochi, with two medal events in women's and men's snowboard-cross. It will include eight medal events in 2022. There will be two medal events in the women's programme.
Wheelchair Curling
Wheelchair curling debuted at the Paralympics in Torino in 2006. Male and female athletes with physical impairments in the lower half of their body, such as spinal cord injuries, cerebral palsy, multiple sclerosis, and double-leg amputation, are eligible to compete in the sport. Wheelchair curling will feature 12 mixed gender teams, with at least one female participant necessary on each squad. The competition will be held at the historic Water Cube venue, which was utilised for Para swimming at the 2008 Paralympics and is presently being transformed into the Ice Cube for the 2022 Games.