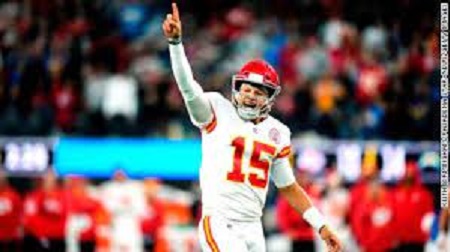 Covid causes NFL and NHL postponements, as well as NCAA delays and cancellations. The postponements and cancellations occur as coronavirus outbreaks spread across the country and a growing number of players are required to quarantine as part of Covid-19 guidelines.
The NFL stated Friday that three Week 15 games would be rescheduled due to Covid-19 concerns around the league.
Saturday's game between the Cleveland Browns and the Las Vegas Raiders has been postponed for 5 p.m. ET on Monday.
The decision comes after 23 Cleveland Browns players, including starting quarterback Baker Mayfield, were placed on the NFL's Covid-19/Reserve list in recent days. Earlier this week, Browns coach Kevin Stefanski tested positive for the coronavirus.
"While our squad and whole organisation diligently prepared for tomorrow's game as originally scheduled, both on the field and in terms of fan experience," the team stated in a statement issued by chief spokesperson Peter John-Baptiste.
Sunday's games between the Washington Football Team and the Philadelphia Eagles, as well as the Seattle Seahawks and the Los Angeles Rams, have been rescheduled for Tuesday. Both games will begin at 7 p.m. ET on Tuesday.
The Rams have 29 players on the Covid-19/Reserve list as of Friday. The Washington Football team has 23 players on the Covid-19/Reserve list, including its starting and backup quarterbacks.
"Since the beginning of the coronavirus pandemic, our focus has been to play our games in a safe and responsible manner, consistent with the best available medical and public health advice, based on protocols developed and implemented in collaboration with the NFL Players Association," Commissioner Roger Goodell wrote in a memo to each team.
The Covid-19/Reserve list is for players who have tested positive for Covid-19 or who have been quarantined after being in close contact with an infected person or individuals, according to the NFL.
NFL teams are not authorised to remark on a player's medical status other than to refer to roster status. Clubs are not required to reveal whether a player is in quarantine or has tested positive for the virus.
The National Basketball Association has announced the cancellation of five games owing to Covid-19 concerns affecting multiple league clubs.
The Brooklyn Nets, Cleveland Cavaliers, Orlando Magic, and Philadelphia 76ers all have significant sections of their squads and other team personnel enrolled in the NBA's Health and Safety policy.
Sunday's planned games between the Nets and the Denver Nuggets, as well as the Cavaliers' game against the Atlanta Hawks and the 76ers' game against the New Orleans Pelicans, have all been cancelled.
The Magic's game against the Toronto Raptors on Monday has also been rescheduled, as has the Nets' game against the Washington Wizards on Tuesday.