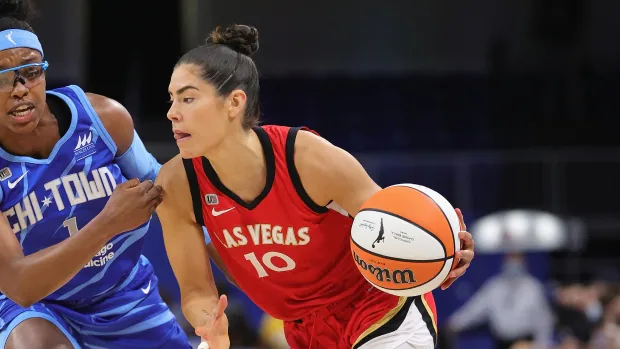 Kelsey Plum scored 23 points, Jackie Young scored on a putback with 4.3 seconds left, and Ji-Su Park blocked the game-winning shot as the Las Vegas Aces defeated the Phoenix Mercury 84-83 in the regular-season finale on Sunday in Phoenix, Ariz.
Plum scored 13 straight Las Vegas points, including the final seven of the game, to bring the Aces within 83-82 with less than a minute remaining. Plum missed a shot for the lead after a Phoenix miss, but Destiny Slocum hustled the offensive rebound. Plum drove again, but her attempt rimmed out, allowing Young to throw in the game-winning shot.
As time expired, Brianna Turner drove to the hoop for the Mercury, but her short floater was blocked by Park.
Another angle of <a href="https://twitter.com/jisupark_twt?ref_src=twsrc%5Etfw">@jisupark_twt</a>'s game saving rejection 🙅‍♀️ <a href="https://t.co/QwKAGfwMf0″>pic.twitter.com/QwKAGfwMf0</a>

&mdash;@LVAces
There were no playoff implications in this game. The No. 2 seed, Las Vegas, has a double-bye and nine days free before facing the highest remaining seed in the semifinals. On Thursday, the five-seed Phoenix (19-13) will host the eight-seed.
Behind Plum, Las Vegas had balanced scoring, with Riquna Williams scoring 13 points and Chelsea Gray and Dearica Hamby both adding 12, but most of the major players were out late.
The Mercury also rested MVP candidate Britney Griner in the second half and were missing Diana Taurasi, who is still out with an ankle ailment. Skylar Diggins-Smith led the way with 17 points, and Kia Nurse added 13, combining for seven of the 14 3-pointers.
The Connecticut Sun finished the WNBA regular season with a 14-game winning streak, defeating the Atlanta Dream 84-64 on Sunday in Uncasville, Conn. Natisha Hiedeman scored 16 points off the bench, Brionna Jones had a double-double, and the Connecticut Sun finished the regular season with a 14-game winning streak.
The Sun (26-6) finished 15-1 at home, and the regular-season champions will have nine days free before facing the lowest remaining seed in the semifinals. The Dream (8-24) were eliminated from the playoffs.
MVP candidate Jonquel Jones led the way with 15 points, while fellow All-Star Brionna Jones chipped in 14 points and 10 rebounds. DeWanna Bonner, the Sun's third All-Star, exited the game after two minutes due to a tight back and did not return.
Just so good. <a href="https://t.co/KL4y884ZPz">https://t.co/KL4y884ZPz</a> <a href="https://t.co/KovfDh56gn">pic.twitter.com/KovfDh56gn</a>

&mdash;@ConnecticutSun
The Sun made 8 of 21 three-point attempts, while the Dream made only 2 of 20.
Courtney Williams led the Dream with 18 points and eight rebounds, but they were outrebounded 48-33.