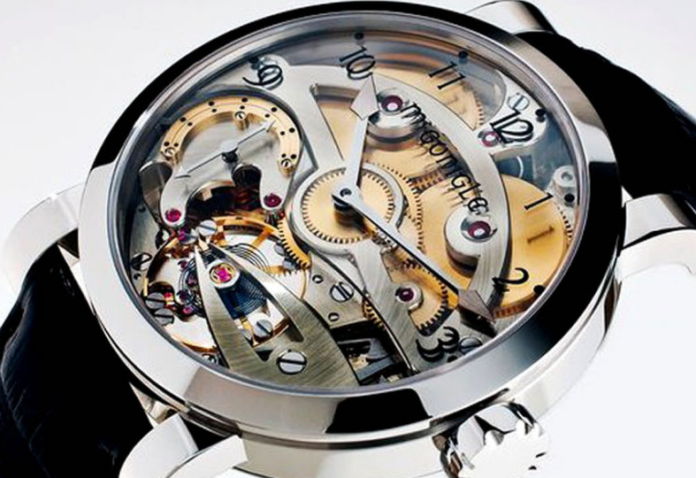 Dublin, Ireland — Stephen McGonigle enjoys giving Gaelic names to his timepieces. He had planned to name his new rugby-inspired wristwatch Láidreacht, which means "strong." "Then I realised no one could pronounce it," he laughed, "so I settled on Fórsa, or force."
Mr. McGonigle, 47, has been a longtime rugby fan. He used to play the game as a kid, but he admits he was never good enough for the pros. Instead, he studied at the Irish-Swiss Institute of Horology in Dublin before going on to work for major Swiss watch companies. He now operates McGonigle Timepieces, an Ireland firm formed in 2006 by him and his brother John that specialises in high-end, handcrafted mechanical watches.
Stephen McGonigle launched Magon Watches, his first solo enterprise, last month, naming it after his boyhood moniker. It offers two handcrafted mechanical chronograph models: the Fórsa Titanium (9,800 euros, or $11,215), with a polished casing that resembles white gold, and the Fórsa Dubh (€11,800). The Dubh casing, which means "black," is sandblasted and coated in a black diamond-like carbon coating, giving it a "mean" appearance and making it "extremely sturdy and scratch resistant," according to Mr. McGonigle.
The Fórsa watches took three years to design. The casings are tonneau, or barrel, shaped to mirror the contours of a rugby ball, and measure 40 millimetres by 33.5 millimetres, according to Mr. McGonigle.
"Ninety-five percent of watches are round," he added. "They begin as a tube of metal in the shape of a sausage, which is sliced into shape." The tonneau takes significantly longer, requires much more materials, and is more difficult to waterproof." The Fórsa timepieces are water resistant to 100 metres (330 ft).
The Swiss-made straps are hand-stitched in green or black rubber. One looks like classic alligator skin, while another is dimpled to simulate the feel of a rugby ball. Despite the fact that the watches are aimed at "everyone," Mr. McGonigle expects they would appeal to rugby players and fans: "These are huge timepieces that would fit a lot of those fellas."
Robbie Henshaw, a Magon Watches brand ambassador and Ireland Rugby International centre, has been wearing a prototype Fórsa Titanium for the last year. He claimed he wears his watch everywhere, even on tour with the British and Irish Lions rugby team earlier this year in South Africa, where it drew notice from other players.
"It's a lovely timepiece," Mr. Henshaw remarked, "quite comfortable to wear, and the rugby motif really connects with me."
Mr. McGonigle also worked with Irish jeweller Nigel O'Reilly to create a one-of-a-kind gem-set replica known as the Fórsa Solas, meaning light. The dial features 718 green diamonds that took 120 hours to set. "I'm amazed Nigel consented to do it," Mr. McGonigle remarked, "since working with titanium is a deadly metal."
Mr. O'Reilly claimed it took him three weeks to set the stones, which was twice as long as it would have taken with gold. "It was enjoyable in retrospect," he remarked, "but it was difficult at the time." The jeweller added that engraving titanium requires three times the force of engraving gold — and that "more force implies there's higher danger of things going wrong."
The pricing is available upon request, however Mr. McGonigle estimates that this design will cost between €70,000 and €80,000.