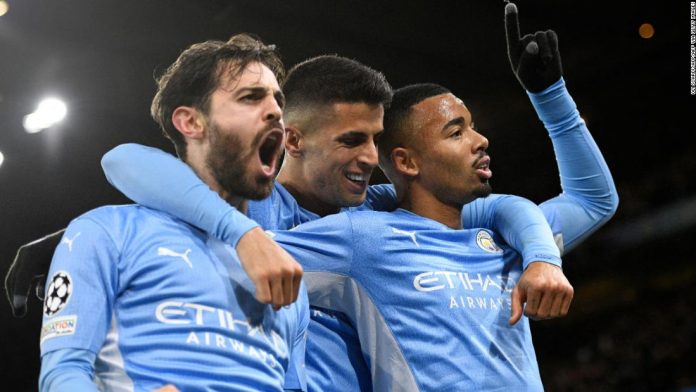 After being on the back foot for the majority of the first half, Paris Saint-Germain seized the lead early in the second half when Lionel Messi's deflected cross was completed by Kylian Mbappe.
The advantage lasted less than 10 minutes, though, as City equalised with Raheem Sterling's close-range poked shot – just recompense for City, who had dominated possession for the most of the encounter. With 15 minutes remaining, Gabriel Jesus scored for the home team after Bernardo Silva set him up inside the Paris Saint-Germain box. In the second group game, RB Leipzig defeated Club Brugge 5-0, ensuring that both PSG and City advance to the knockout rounds.
The intriguing match in Manchester, which paired two of the Champions League's top sides against each other, both of whom had reached the competition's final in the previous two seasons, came to life in the second half after City had controlled the first 45 minutes. Rodri's header was cleared off the line by Presnel Kimpembe in the game's opening minutes, allowing Pep Guardiola's team to take the lead.
Then, midway through the first half, Ilkay Gundogan's thunderous drive rattled off the post and Riyad Mahrez had an attempt saved by PSG goalkeeper Keylor Navas. Paris Saint-Germain created few opportunities and was stifled by City's passing and heavy press, but with Messi, Mbappe, and Neymar in attack, a breakaway goal appeared certain.
That's precisely what occurred at the opening of the second half, when Messi burst down the left and passed to Mbappe, who slipped a shot through Ederson's legs to give PSG the lead. Man City kept attacking the Paris Saint-Germain goal, and Sterling scored as Kyle Walker's cross went past Jesus and found the England forward at the back post.
"We're extremely delighted — very happy with the three points, very happy with qualifying first in the group, which is very crucial for us, and very happy because our supporters deserved a fantastic performance and a good win," Silva said after the game to BT Sport.