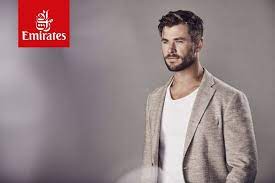 With fewer than 30 days to the opening, Emirates has launched a new worldwide campaign urging visitors to explore the boundless possibilities of Expo 2020.
The ad, which is fronted by actor Chris Hemsworth, depicts the show's ultra-futuristic concepts and extraordinary experiences, which will be on display when it opens its doors to the public on October 1st.
"We teamed with Emirates to design a bold and exciting campaign that we believe will resonate with audiences around the world and inspire them to come and experience Expo 2020 Dubai for themselves," said Reem Al Hashimy, director-general of Expo 2020 Dubai.
"Expo 2020 Dubai will be one of the world's most important must-see events.
"In addition to impressive marquee pavilions that immerse visitors in the themes of mobility, sustainability, and opportunity, and 191 incredible country pavilions, there will be an unforgettable celebration of music, art, and culture with a packed entertainment schedule, unique culinary experiences, and much more. It is certainly shaping up to be a must-see event."
Chris Hemsworth also emphasized the significance of Expo 2020 in crafting a better future.
"In 2019, I worked with Emirates and Expo 2020 Dubai to assist raise awareness of what is a tremendously important event for the world," he explained.
"We all have the capacity to design a better future, and the previous year and a half have taught us that when we bring our thoughts together, the possibilities are limitless.
The ad, which was conceptualized and shot pre-Covid in time for Expo 2020 Dubai's initial opening date, attempts to express the energizing spirit of innovation, creativity, and the determination to create a better future, all of which are essential themes of the global event.
Using a layered storytelling approach, the ad is supplemented by a slew of computer-generated imagery animations and graphics to depict what the event would look like, as it was shot while the Expo 2020 site was still under construction.
In the commercial, Chris Hemsworth transports viewers from Dubai's iconic beaches and through its breathtaking skyline to the Expo 2020 Dubai site, bringing to life the event's flagship mobility, sustainability, and opportunity pavilions, as well as providing a glimpse into the excitement and celebration that awaits at the participating country pavilions.
Also today, Emirates announced the reopening of its lounge at London Heathrow Airport as the airline expands its operations in the United Kingdom.
The lounge is also the only one in Heathrow Terminal 3 where passengers can board their flight without leaving the comfort of the lounge.
It will be open every day from 05:30 to 22:00, providing passengers with a variety of dining options such as a premium seasonal buffet with hot meals, self-serve salads, cheeses, and desserts, as well as a complimentary bar serving pre-flight beverages and champagne.