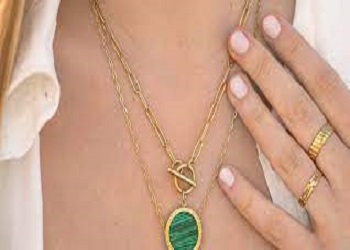 Pieces of Celine jewelery featuring the brand's Triomphe emblem in the centre. Céline Vipiana, a French designer, and her husband, Richard, founded a business selling made-to-measure children's shoes in Paris's 11th Arrondissement in 1945. A few years later, they commissioned artist Raymond Peynet — famed in France for his depiction of two young lovers known as "Les Amoureux" — to create the atelier's unique red elephant emblem, which aided the brand's early popularity. By the 1960s, the firm had grown into leather accessories, and in 1967, it debuted its first women's ready-to-wear line, which included casual yet exquisite designs dubbed "couture sportswear." Céline Vipiana, the brand's co-founder, created the now-iconic emblem in 1972, which Hedi Slimane has brought back in full force.
She observed the elaborate decorations on the wrought-iron chains around the circumference of the monument while stranded along the Place Charles de Gaulle. She was inspired by the ornate linkages to design a new coat of arms, this time with two nested C's pointing in opposing directions. The crest-like motif evolved into Celine's now-iconic Triomphe logo, which can be found on everything from button-down foulards to rhombus-patterned cardigans to purses and thick gold chains.
Hedi Slimane, a 53-year-old French designer, took over as artistic, creative, and image director of the company in early 2018. He dug through the archives, resurrecting the forgotten Vipiana-era Celine Jewelry and fusing its '70s Parisian bourgeois heritage with his signature youthful edge: silk scarves, herringbone blazers, and tweed culottes have been paired with slouchy Gen Z hoodies, brocaded military bombers, or asymmetrical cut-out crop tops. Slimane is releasing his new Maillon Triomphe jewellery line this month, which pays homage to the 1972 logo: His slinky sautoirs, stud earrings, chain bracelets, and double-chain necklaces are made of yellow gold and studded with pavé diamonds.