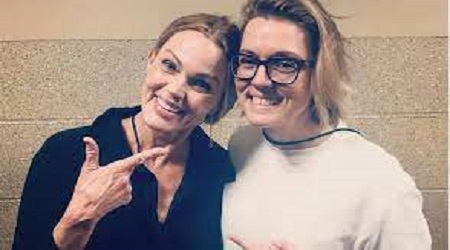 Belinda Carlisle of The Go-Gos on Her Rock and Roll Hall of Fame Fashion Looks. The ceremony and performance took place in Cleveland at the end of October, with fellow inductees Tina Turner, Foo Fighters, and L.L. Cool J among those in attendance, but it's just now appearing on HBO Max, on November 20.
Drew Barrymore welcomes The Go-onstage, Go's declaring them "the first band I ever liked" and donning a towel and face cream in reference to the 1981 album cover "Beauty and the Beat" to prove it.
Carlisle, who was recognised in the early 1980s for her DIY flair, such as donning unbelievably elegant trash bag skirts on stage, went to her old friend, designer Jeannine Braden, for her outfits.
Belinda Carlisle wore several items from Braden's holiday collection, including a jewelled sweater, cosmic-patterned pleated skirt, tulle-and-denim pencil skirt, and gold sequin dusted smoking jacket, striking the ideal mix between punk and polish.