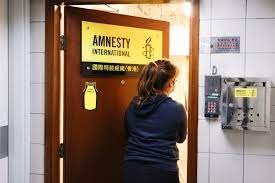 HONG KONG—Amnesty International has announced that it will leave Hong Kong by the end of the year, marking one of the most visible withdrawals of a civil-rights organisation since China imposed a broad new security law on the territory.
The London-based rights organisation announced the closure of two offices in the city, including a regional office. It mentioned the security law, which went into force in June 2020, and claimed that the legislation was ambiguous and that authorities were using it to restrict freedom of speech and stifle political dissent.
"This decision was made with a heavy heart because Hong Kong's national security law has effectively made it impossible for human rights organisations in Hong Kong to work freely and without fear of serious reprisals from the government," Anjhula Mya Singh Bais, chair of Amnesty International's board, said in a statement.
The departure of Amnesty International followed a wave of closures by local trade unions and other civil-society groups in the midst of the authorities' crackdown on dissent. Amnesty was one of several notable human-rights organisations and other nonprofit organisations that worked freely in Hong Kong for decades prior to the passage of the security law.
Despite the fact that the former British colony has been technically part of China since 1997, the region originally enjoyed greater autonomy and personal liberties than the mainland, as guaranteed by China under the "one country, two systems" approach. Many of these rights are being eroded as Beijing imposes greater authority over Hong Kong in the aftermath of seven months of large, sometimes deadly anti-government demonstrations in the city.
Amnesty International concentrated on human-rights education in Hong Kong, including classroom discussions, the promotion of an annual human-rights-themed documentary film festival, and the co-sponsorship of a major regional journalism prize.
A separate Amnesty office in Hong Kong engaged on regional research and human-rights advocacy. Amnesty International has announced that it would terminate its local office by the end of October and its regional office by the end of the year. It said that the regional office's activities will be continued from other sites but did not specify where. According to a spokeswoman, the organization's two Hong Kong offices employed more than 30 individuals.
"Hong Kong has traditionally been an attractive regional base for international civil society organisations," Ms. Bais said. "However, the current targeting of local human rights and trade union organisations indicates an acceleration of the authorities' drive to rid the city of any dissident voices."
According to Amnesty International, at least 35 groups have liquidated since the bill was passed, including prominent unions and activist organisations.
A spokeswoman from the Hong Kong administration did not immediately reply to a request for comment. Following the chaotic wave of demonstrations, the city's authorities and Beijing have said that the law has restored order to the city.
Hundreds of individuals have been detained under Hong Kong's new security law, which makes terrorism, subversion of state authority, secession, and cooperation with foreign forces illegal. The law handed police broad new powers, and authorities have targeted the city's political opposition, labour unions, and protest organisations and leaders.
Copyright ©2021 Dow Jones & Company, Inc. All Rights Reserved. 87990cbe856818d5eddac44c7b1cdeb8