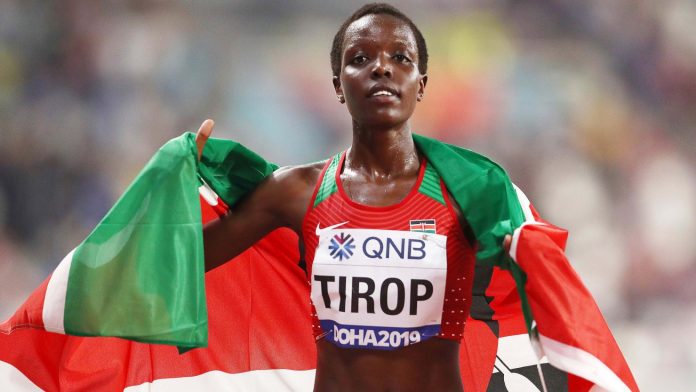 ABUJA, Nigeria (AP) — Agnes Tirop, a Kenyan long-distance runner discovered dead at her house in Iten, western Kenya, on Oct. 13, had threatened to leave her husband and suspected killer weeks before her death, according to those close to her.
Agnes Tirop was discovered with stab wounds in her belly and neck after her husband's relatives claimed to police that he had called them sobbing and pleading for God's forgiveness for anything he had done. Her neighbours claimed she was in an abusive marriage and was anxious to leave.
Stella, one of Tirop's neighbours, told The Daily Beast, "she continually talking about her husband being abusive towards her." "Agnes Tirop worried her husband would kill her one day, and that's exactly what occurred."
"I could hear screaming coming from their apartment." At their request, The Daily Beast has altered the identities of sources who have commented about Tirop's marriage and personal life.
Agnes Tirop, who won bronze medals in the women's 10,000 metres at the World Championships in 2017 and 2019, as well as fourth in the 5,000 metres at the Tokyo Olympics this August, was claimed to have a broken marriage.
According to Stella, the athlete and her husband battled regularly in their house.
"She had stated that she had left Iten earlier than intended to join Kenya's training camp ahead of the [Tokyo] Olympic Games because her husband had physically mistreated her," Stella explained. "She unwillingly returned to Iten [this October] after several of her friends pressed her to do so."
Rotich, Tirop's husband, who had fled the nation immediately after his wife's death, was apprehended in Mombasa on Oct. 14 while attempting to exit the country and is expected to be charged with her murder. Those who live near his Iten house believe he murdered his wife on October 11, two days before her body was discovered.
"On the night of October 11, I heard cries from their apartment and I got concerned that Agnes Tirop was being attacked by her husband," Ruth, another of the late athlete's neighbours, told The Daily Beast. "She didn't leave her residence the next day, which led me to believe she may be in trouble."
Agnes Tirop allegedly informed relatives and close acquaintances that she was constantly abused by Rotich and believed she would be murdered by him. It was for this reason that her neighbours were concerned when she was not seen or heard from the day after her altercation with Rotich.
According to a local report, Everlyne Chepng'etich, Tirop's younger sister who resided with the couple, also heard screaming from the master bedroom on the same night and grew concerned for her sister. Chepng'etich questioned Rotich about Tirop the next morning, and Rotich stated she was OK. Rotich then dispatched Chepng'etich to the market to purchase meat, then contacted her hours later to instruct her not to return home, stating that he and Tirop had both departed for Kenya's capital city, Nairobi. Agnes Tirop had gone disappeared, according to a distraught Chepng'etich. Her parents then went to the Iten Police Station and reported the incident.
"I've wept, I've grieved, and all my tears have dried."
Tirop's family now believes that the athlete, who set a world record in last month's women-only 10-kilometer road event in Germany, was assassinated in a scheme concocted during the Tokyo Olympics, when it was revealed that ownership of several of her properties had changed while she was competing.
"There are a total of 12 properties, which have subsequently changed ownership," Jeremiah Sawe, a representative for Tirop's family, told Kenya's Daily Nation. "The suspect has claimed ownership of the property, and we assume the deceased was unaware or was under duress."
According to Sawe, Tirop's family members discovered that "there are no documentation for various automobiles acquired by the athlete and, unexpectedly, another [of Tirop's] cars is registered under one of the suspect's buddies."
Agnes Tirop was laid to rest in Iten on Saturday—her 26th birthday—at a burial attended by almost 1,000 mourners, including other athletes. Her grieving family, who desire justice for the athlete, could scarcely gather the fortitude to talk about her death.
"I don't have much to say for today: I've mourned, I've sobbed, and all my tears have dried," Dinah Tirop, the late athlete's mother, said.