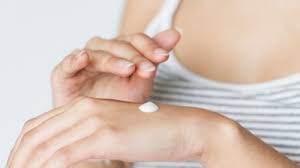 A molecular missing link' discovered by researchers. A new study finding sheds light on what may cause immunological reactions to skin creams and commercial items.
Chemical compounds contained in skin creams and other personal care items can induce severe skin reactions, a condition is known as allergic contact dermatitis (ACD).
In developed countries, it is unclear how personal care chemical components cause a reaction.
The majority of allergy reactions involving T cells are caused by proteins or peptide antigens that activate the immune system. However, chemical compounds found in personal care products are different types of molecules that were previously assumed to be incapable of directly eliciting a response from T cells.
Researchers from Brigham and Women's Hospital, Columbia University, and Monash University discovered a new molecular mechanism by which common components of consumer products can trigger an immune response, highlighting a specific molecular connection that may explain the mystery surrounding these ACD cases.
"What we offer here is a molecular missing link," said co-senior author D. Branch Moody, MD, a principal investigator and physician in the Division of Rheumatology, Inflammation, and Immunity at the Brigham. "We called into question the widely held belief that T cell-mediated allergic reactions are only induced when T cells respond to protein or peptide stimuli."
It is unknown how many compounds, such as those present in soaps, cosmetics, scents, jewelry, and plants, cause a T cell reaction. Chemical substances discovered in these items were assumed to be too tiny and of the incorrect chemical structure to be recognized directly by T cells, the immune cells that cause ACD.
Annemieke de Jong, co-lead author from Columbia University, among others, questioned if there could be another explanation. The researchers wanted to see if CD1a, a molecule found in immune cells that compose the outer layer of human skin, could attach directly to allergens found in personal care products and convey them to the immune system, causing a reaction.
Sarah Nicolai, MD, a Brigham and Women's Hospital research fellow in Medicine, exposed T cells to material from skin patch testing kits used in allergy clinics and discovered that T cells responded to some chemicals, including balsam of Peru, a tree oil frequently used in cosmetics and toothpaste. The researchers also discovered that two components of Peruvian balsam, benzyl benzoate, and benzyl cinnamate, are directly responsible for boosting the T cell response. Similar chemicals were also investigated, and the researchers discovered a dozen tiny molecules, including farnesol, that appeared to induce a response.
Monash University researchers solved the X-ray crystal structure to better understand how these compounds triggered a reaction, revealing that when farnesol forms a complex with CD1a, farnesol kicks out naturally occurring human lipids, making CD1a more visible to T cells and leading to T cell activation.
While the authors' research reveals that scents included in personal care items can directly activate a T cell response, more research is needed to determine whether this causes disease or allergic reactions.