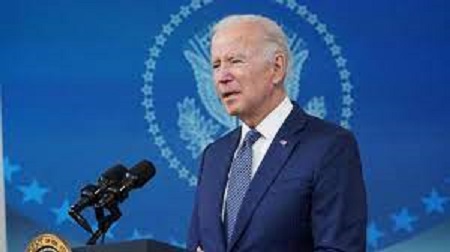 When asked about his voice at the end of his speech, which he interrupted several times to clear his throat, President Biden said, "I'm OK."
"Every day, I get a COVID test," he added. I have a one-and-a-half-year-old grandson with a cold who likes to kiss his grandfather. Anyway, it's just a cold," says the narrator.
President Biden began his prepared remarks on the November jobs report by sounding husky, his voice audibly lower than usual. He turned away from his microphone at one point to cough into his hand.
During his speech, he did not wear a mask, as he usually does when making remarks from the White House.
A reporter had asked Biden how he was feeling as he was returning to the White House from a speech about his winter COVID strategy at the National Institutes of Health in Maryland the day before.
"Great!" Biden exclaimed as he came to a halt and turned toward the cameras.
It's not uncommon for presidents to appear in public with a hoarse voice or appear more tired than usual; the job is demanding and often requires interacting with a diverse group of people. To avoid becoming ill, presidents use hand sanitizer gel frequently.
Nonetheless, in the COVID-19 pandemic era, every change in the commander-in-health chief's is closely tracked. Last year, just days before revealing he had COVID, then-President Donald Trump sounded and appeared ill.
An excerpt from a book written by Trump's former chief of staff revealed this week that the former President had tested positive for COVID several days earlier than previously thought. Mark Meadows wrote in the excerpt obtained by The Guardian that Trump later tested negative.
Biden's admission that he is tested for COVID every day goes beyond what the White House has said about his testing regimen. Jen Psaki, the White House press secretary, said on Wednesday that he had last tested negative on Monday.
President Biden would be tested for COVID every two weeks, according to the White House, on the advice of his doctor, who cited the vaccine's efficacy rates. On Wednesday, Psaki stated that "nothing has changed" in the testing procedures.
She also stated that Biden's travel plans and White House engagements would not be affected by the Omicron coronavirus variant, which is still being studied by government health officials to determine its transmissibility and potential resistance to vaccines.
Parents and grandparents of young children will recognise Biden's claim that he caught a cold from his young grandson. According to the US Centers for Disease Control and Prevention, the common cold is the leading cause of missed work in the United States, with adults catching two or three colds per year on average. Even more is available to children.
Most people recover from colds in seven to ten days, according to the CDC, but those with weakened immune systems, asthma, or respiratory conditions are more likely to develop more serious illnesses like bronchitis or pneumonia.