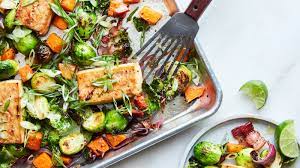 The Meat-Reduction Strategy for Weekdays.
Jenny Rosenstrach's Dinner: A Love Story has been a steady hand holding the whisk for many home cooking internet fans for the past decade. Originally a blog and book series, Rosenstrach has demonstrated a penchant for innovative and contemporary recipe development with style and a distinctive voice that conveys culinary concepts large and small. Reading through the author's sensitive Project, Pantry, Purpose series reveals it to be not just a useful culinary resource, but also a brave diary of the post–Before Times. Her banana bread isolation journal from late March 2020 reminded me of so many dark days from that period.
But we were on Zoom in late October, chatting about the author's newly released New York Times best book, The Weekday Vegetarians. Following in the footsteps of Mark Bittman's popular VB6, Rosenstrach's goal is of a future where plant-based eating becomes more of a Monday-through-Friday habit than a life-altering stricture. As we explore, there's lots of imaginative cuisine here, including new spins on vegetarian burgers and cabbage cookery.
Let's get started with The Weekday Vegetarians because I want to talk about some specific dishes, but I also want to zoom out and speak about writing from a vegetarian perspective. Have you found it difficult to market that kind of food to specific people? This might be your children, or it could be Dinner: A Love Story readers.
I mean, I'll begin with my own children. I would never have been able to achieve this ten years ago. I don't believe they were at the correct position for it. But now that they're adolescents, they're learning about climate change and the environment just like the rest of us, and the talks at the table have become too loud.
In terms of readers, it appears that everyone is having this talk about cutting back on meat. I had the impression that many individuals were prepared for it; they simply didn't know how to go about it. And I feel like cookbooks have been pushing people to love veggies for the last 10 years. Beginning with Yotam Ottolenghi putting eggplant on the cover of Plenty and making a strong case for how nutritious veggies can be. Then the all-day café thing came, and instead of turkey burgers for lunch, there were avocados, and it just seemed like a progressive transformation. It seemed like a logical next step to me. I'll never claim I'm not eating meat again.
That appeals to me.
I believe this contributed to the book's popularity because it's difficult to just tell people, "Don't do this anymore," when they've been doing it for so long. "Even if you grew up on them, never eat your grandmother's meatballs again." I wish we could all be better people in that regard, but the fact is that we aren't. Someone stated on one of my postings, "We need more people eating less meat, rather than a few people eating no meat," and I thought that was such a wonderful way to put it. And I felt that was spot on. That is the entire premise of this novel.
I get the impression that you're pounding home the point that cabbage is underappreciated through your dishes. I wholeheartedly concur.
I love how you found that through thread! I believe that to be true, but I never considered it in that light. I'm a huge cabbage fan. I write a column for A Cup of Jo, and last year I published a tale about cabbage in the midst of quarantine, and the response was incredible. People adored cabbage because it's inexpensive, adaptable, and healthful, and I'd only really truly liked it for slaw for so long. I know it seems strange, but I'm new to roasting and cooking with it, and I'm not sure why it took me so long.
How did you figure out how to make a vegetable burger? Because we've already written about vegetable burgers, and veggie burgers are complicated—and they may be extremely nasty.
Yeah, I'm not sure whether I've cracked it yet. But, as far as vegetarian burgers go, this is the finest I've tasted. There was a lot of trial and error involved. My issue was that I put so much focus on the beans that they all tasted like bean burgers. I ultimately simply cut back on the beans—and I didn't make them black beans because I think black beans are so tasty, and a lot of burger recipes are based on black beans, I reasoned.
What's the secret?
Mushrooms. I experimented with combining mushrooms and pinto beans because I enjoy the colour of pinto beans; they look like burgers, you know? The idea is to make them incredibly flat and rough on the edges so you don't bite into a giant patty of mush.
As in a smashburger.
Yeah. You also need a lot of toppings, so there's avocado, spicy mayo, and lettuce. You can't just have ketchup on a burger—not it's even trying to be a burger. That is why I believe it works for me. My kids enjoy them as well, which makes me happy.
Where do you seek for ideas when you're staring at a blank page for your books or columns?
I'm not sure I can deliver on that, but I enjoy reading about cuisine. Because I review cookbooks frequently on the site and like a New York Times cookbook roundup, I have every cookbook in the world sent to me. I've done it several times, and you should see how many books come my way; I'm sure you're the same way. It's lovely, but it's also exhausting. But I do get to almost all of them, and I always learn something new. I also obtain content from TikTok and Instagram. Things simply sort of stick in my brain. Restaurants are a great source of inspiration for me when I go out to eat.
The Easiest White Bean Soup
"Like many soups, this one is all about the garnishes." Serving it with the three suggested toppings (croutons, pesto, and scallions) will take it to the next level, but you'll be fine with just the first two. Tip for soup-skeptical parents: If you offer the soup in a tiny bowl and the crouton on the side, the kids may see the soup as more of a "dip."
Tagliatelle with Corn, Tomatoes, and "Onion-Bacon" Sauce
"We've cooked this pasta with shrimp, bacon, and both shrimp and bacon throughout the years, and when the tomatoes and corn are at their peak sweetness, it virtually screams summer." That is to say, it is simple, fresh, and strikes notes that are only available for a few weeks out of the year. I was concerned about preparing an all plant-based version, but then I heard a secret from Bon Appétit's Chris Morocco: caramelising red onions at a low heat (for roughly the time it takes to boil water and then cook the pasta) gives them a richness that rivals bacon."