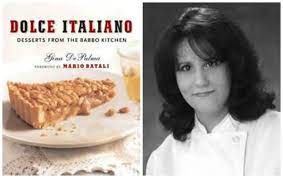 The Pastry Chef's Lost Cookbook
Gina DePalma, the illustrious James Beard Award-winning chef, and author authored one of the most comprehensive recipe compilations ever dedicated to Italian pastry, a well-researched cookbook that remains inexplicably unpublished. Her lost opus, titled "My Sweet Italy," would have continued the route she'd made with her critically lauded 2007 book, Dolce Italiano. DePalma died in 2015 at the age of 49 after a protracted fight with ovarian cancer. This paean to Italian desserts, which includes a treasure trove of regional recipes and travel writings, is her legacy. The unpublished manuscript is a treasured relic from a legendary career that influenced a generation of pastry chefs.
When a former colleague gave DePalma's manuscript with me in secret a few years ago, I couldn't bring myself to open it right immediately. I understood how much heart and soul she had spent writing the book as a coworker and friend for more than 10 years, including when she was battling cancer. I never believed I'd be able to see it completed. When I eventually summoned the courage to read the manuscript, I was overcome with grief, lamenting her genius as a chef as well as an author, whose seminal work had been unfairly denied to a generation of educated cooks and bakers.
She took a break from the famed Greenwich Village enoteca in late 2007 to live in Italy and work on her next book. What would happen is a tale of discovery and betrayal. Her adventure would take her to some of Italy's most rural locations, including the Calabria street where her great-grandparents previously lived. Looking out at the window of her family's Carolei home, Gina writes in the book's preface, "Everything I had experienced as a child came together and crystallized into a single instant of self-realization."
Mario Batali contributed the foreword to her debut cookbook, and his name is screamed across the cover in big red font, completely overshadowing hers. DePalma told many of her acquaintances, including myself, that she despised the jacket design and was tired of living in her boss's large shadow. She despised being labeled as Batali's sweet tooth because she felt her accomplishments were readily overlooked because of their link. Despite her passionate loyalty, DePalma always marched to the rhythm of her own stand mixer, making her relationship with the disgraced chef tense at times.
Gina DePalma is the youngest daughter of Southern Italian immigrants who grew up in Fairfax, Virginia. Despite comprehending her mother's Calabrian dialect fluently, DePalma never learned to speak Italian, despite the fact that it was her family's original tongue. Sunday gravies, oreganata-roasted fish, homemade Easter bread, and steamy bowls of her mother's pasta e Fagioli are all on the menu. Her grandparents would bring boxes full of Italian delights from New York City, including enormous soppressata, crisp Italian bread, and wedges of Parmigiano-Reggiano. She naturally defines her Italian-American identity in the introduction to "My Sweet Italy."
"My Sweet Italy" was planned as a cookbook and culinary tour that would emphasize the regionality of Italy's outstanding pastry traditions. DePalma's subtle approach contrasted sharply with the cookbook publishing market at the time, which was dominated by the Food Network. DePalma began experiencing excruciating abdominal pain in June 2008, while taking up residency in Rome and was compelled to return to New York City prematurely. She assumed it was caused by stress, possibly an ulcer. She was diagnosed with ovarian cancer just days after arriving home, and she began treatment right away.
DePalma worked feverishly on "My Sweet Italy" throughout her seven-year fight with cancer. DePalma's sister, Maria DePalma-Cocozza, recalls the project: "The second book was nearer and dearer to Gina's heart." Gina's editor, the late Maria Guarnaschelli, may have expected more than she could provide in her frail health. Guarnaschelli insisted that DePalma reduce the book's travel aspect. Norton's editorial team, who appeared to be at odds with her vision, opted to put the project on hold with little explanation. Gina's sister recalls, "I suppose the publisher wanted a pure cookie-cutter cookbook, and Gina didn't want to make it."
Laurie Woolever worked with DePalma from the start of Babbo in 1998 until 2001, when she moved on to become Anthony Bourdain's personal assistant and coauthor of his Appetites cookbook and upcoming oral biography. According to Woolever, Bourdain was a huge fan of DePalma's work and championed it with his own publishing partners after her death, in an attempt to resurrect interest in the book after Norton refused to publish it.
"Gina was fantastic at coming up with new recipes," Woolever says. "She was also a fantastic educator. She was quite effective at communicating techniques, whether through writing or in person, and she seemed to love it. When she had the opportunity to teach someone something, you could really see her soften."
At the start of Dolce Italiano, DePalma used a gentle touch to moderate her readers' expectations of themselves by sharing an Italian proverb. "Perfect is the enemy of the good," the phrase loosely translates. She realized that excellent dessert recipes required accuracy, just like any great pastry chef, and she was committed to protecting her readers from their own flaws. However, in her professional life, good was frequently at odds with excellent. Babbo was the face of Italian restaurants in New York City, a high-stakes, male-dominated environment. The name "Babbo" comes from the Italian word "daddy," and the eatery has its fair share of daddy difficulties.
DePalma's obstinacy and demanding standards made her own worst adversary, according to Woolever. "If she had been able to control her emotional reactions to things a bit better, she would have gained more of the respect she so much deserved and desired. However, it was not a place where being visibly emotional was rewarded."
Despite her poor illness, DePalma continued to work at Babbo despite the arduous chemotherapy regimens. During periods of remission, she continued to write whenever she had the energy. Completing the book was a turning point in my recovery. When she was diagnosed with cancer, she continued to write dispatches for the website Serious Eats for a column she established in Rome called "Seriously Italian."
"My Sweet Italy" is a representation of DePalma's own personal journey in many aspects. She recounts a slew of gastronomic revelations, such as realising that her mother's infatuation with fresh fruit as dessert wasn't exclusive to Italy. She reluctantly concedes that she was incorrect to criticise her mother's enthusiasm for macedonia di frutta, the Italian counterpart of an American fruit salad sometimes spiked with moscato wine or grappa, which she detested as a kid. In the book, her mother proudly reminds DePalma, "We always had fruit with dinner." Her mother then takes a breath and smiles. "Right now, I have some fruit salad in the fridge.
DePalma explores the significance of pastry in the many sagre, or festivals, that take place in Italy throughout the year. We learn about the many martyred patron saints and the beautiful desserts prepared in their honour by the Italians. This includes brigidini, which are Pringles-thin wafers kissed with anise and cooked in honour of Santa Brigida, a Swedish nun who, according to history, unintentionally poured sugar into a batch of communion wafers. She baked the batter anyway, not wanting to incur the sin of wasting food.
Sant'Agata, the patron saint of Catania, Sicily, had her breasts cut off after she declined a wealthy Roman prefect's marriage proposal. Minne di Sant'Agata, small mounds of marzipan and custard topped with a cherry "nipple" to imitate the saint's severed bosom, are a popular pastry in Italy. One has to wonder if the stories of these martyred pastry saints connected more with DePalma's own sense of martyrdom as she battled toxic masculinity in the Babbo kitchen and the restaurant business in general. Strong women were at the heart of all excellent Italian dishes in Gina's universe.
What makes "My Sweet Italy" so appealing to readers is that it goes beyond cuisine and tourism. The book was never photographed or illustrated, yet even as a raw digital document, it doesn't require flashy graphics. DePalma creates a vibrant canvas filled with scenes that depict her many trips to Italy. One of her happy essays is dedicated to the simple yet dangerous act of crossing the street in Rome. To avoid getting hit by roaring Maseratis and flying Vespas, tourists should follow Italian guys in beautiful leather shoes or quietly shadow monks in flowing robes, she says. She claims that not even the most rash Italian driver would dare to hit a priest.
During her studies in Piemonte, she met Diana Strinati Baur, who ran an inn in Acqui Terme with her husband. The two friends traveled over the undulating hills of the Monferrato in search of the best amaretti cookies in the area. "It was more about giving the areas their due in the second book," Strinati Baur adds. "Gina wanted people to appreciate the importance of sweets and desserts in Italian households all around the country, not just in restaurants."
Strinati Baur introduced DePalma to Moriondo Virginio, her favourite amaretti fabbrica in Mombaruzzo's tiny mediaeval village. These little bakeries are referred to as "factories" because, unlike the ubiquitous pasticceria, they exclusively make one product. Strinati Baur remembers, "The bakers invited us back into the kitchen, where they were wrapping cookies." "Oh my god, that's a bottle of armelline!' Gina exclaimed as she peered on the shelf, referring to the oil extracted from apricot kernels used in traditional soft amaretti cookies. It's prohibited in the United States, so she'd always bring a bottle back to New York."
In a section connected to her recipe for amaretti morbidi, inspired by that day's vision, DePalma narrates the same incident. She writes, "Baker to the baker, she gazed into my eyes, and I felt the jolt of a familiar, joyous connection with a kindred spirit; one who commands a mixer and oven day in and day out." "There was no language barrier for a little moment, and we understood each other perfectly."
DePalma considered herself as a vehicle for continuing Italy's great culinary tradition, despite the fact that it was never an easy weight to bear. "It is as easy as that," she says in the text, "that the recipes and customs of Italy, sweet or savoury, will remain alive for generations to enjoy if they are prepared, cherished, and passed along; it is as simple as that, and I am a glad, persistent evangelist for this message."
We're presenting numerous unreleased recipes from "My Sweet Italy" for the first time to respect DePalma's aim. We've also included genuine images taken by DePalma herself during her Italian trips and when recipe testing the book, with her family's permission. We owe it to her memory as amateur cooks and pastry enthusiasts to carefully prepare these sweets in our own homes. Gina tells us in "My Sweet Italy" that patron saints are our advocates in heaven for Italians. We may continue to pay honour to Santa Gina, patron saint of the most delectable Italian desserts, by keeping her recipes alive in our ovens exactly as she would have liked.