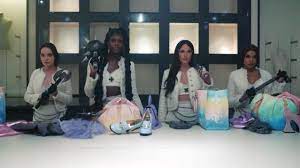 The film of the same name, as well as the highly anticipated album
The Most Eye-Catching Fashion Moments in Kacey Musgraves' Film "Star-Crossed". Kacey Musgraves has returned to the scene with her fifth album, "Star-Crossed," which includes songs about heartbreak as well as striking fashion moments in the accompanying film directed by Bardia Zeinali.
The film of the same name, as well as the highly anticipated album, was released on Friday. The 50-minute video is a fantasy retelling of her relationship with ex-husband Ruston Kelly, whom she divorced in September 2020, focusing on the emotions she felt before, during, and after the divorce.
Musgraves and Kelly started dating in mid-2016 and got engaged in December of that year. The couple married in Tennessee in October 2017. In a joint statement, the couple stated that "it just simply didn't work out" when they filed for divorce last July.
It's no secret that her relationship with Kelly is one of the album's and film's central themes.
The lack of a husband or male protagonist in the film, with Musgraves, dressed up as characters with no marital connection, such as a bride without a groom and a woman who resembles a Stepford wife.
Despite its emotional lyrics and depiction of heartbreak, the short film features a plethora of colours and stylish outfits, with some serving as an ode to the late 1990s and early 1990s. Eugene Levy from "Schitt's Creek," Victoria Pedretti from "You," and Symone from "RuPaul's Drag Race" all make appearances in the film.