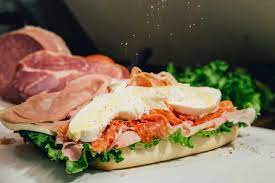 The basket of spilled oranges, rolling down a bloodied New York street like runaway neon bouncy balls, is probably the food most associated with The Godfather. Nonetheless, when a generation of Italian American deli owners saw the 1972 film, they all seemed to say, "Sandwich."
The Godfather sandwich became a mainstay at delis across the country as the film won awards and established itself as sacred cinema. Everyone agrees that the former gave the latter its name, whether you call it a hoagie, a sub, a hero, or something else. What no one can agree on is what constitutes one in the first place.
"The Godfather is Genoa salami, prosciutto, capicola, whatever trimmings you want—lettuce, tomato, onion, pickles, hot peppers—on our bread," says Ray Cacia, who runs the Cacia's Bakery in Williamstown, New Jersey.
"The Godfather is salami, pepperoni, ham capi[cola], mortadella, soppressata, provolone, oil, vinegar, and hot peppers on Arthur Avenue white bread," says Vito Sandomenico, who started working at Anthony's Deli in Mamaroneck, New York, right out of high school and now owns it.
"The Godfather is prosciutto, soppressata, coppa, sharp provolone, marinated eggplant, lettuce, tomato, onion, olive oil, and red wine vinegar on seeded Formica's semolina bread," says Paul Bagliani of Bagliani's Market in Hammonton, New Jersey, who is part of the fourth generation of owner-operators.
Even after eliminating total outliers (the chicken and smoked sausage Godfather at Zunzi's in Savannah, Georgia; the lasagna-on-garlic-bread Godfather at Melt Bar and Grilled in Cleveland) and organizing the various cold-cut-based Godfathers in a Venn diagram, the overlapping nucleus remains empty.
Mortadella makes an appearance every now and then. Most Godfathers have sharp provolone, but Cosmi's Deli in my grandparents' old South Philly neighborhood, for example, softens theirs with milky-mild fresh mozzarella. Since 1965, Ro-Lynn Deli, located in Delaware County near the Philadelphia airport, has served Murder Durders a Godfather layered with pepper ham.
Although the details vary, Godfather subs all have a certain level of opulence. While the sandwich makers were paying homage to the archetype of the boss who speaks softly and carries a big stick, their visually impressive, bountiful, flashy heroes have more in common with the decades of money-and-status-obsessed antiheroes.s.
Godfathers are more common in areas with a history of Italian immigration, but the sandwich can be found outside of the Acela corridor. Baker's Mark makes a Godfather (along with a meatless version) in Portland, Oregon, and Milio's Sandwiches, a Wisconsin-wide chain, drenches its Godfather in "gourmet Italian dressing" and regrettable puns. According to the website, it's so amazing that if someone tries to steal yours, you'll threaten them with "over my bread body."
Cacia considers his Godfather to be "our version of the Italian hoagie," with the notable difference being the cheese, which is sharp rather than mild provolone. A billboard advertising the sandwich hangs above the Red Carpet Inn on the Black Horse Pike, not far from the deli. "We didn't start calling it 'the Godfather' until we opened [a location] in Hammonton 20 years ago," Cacia claims, adding that the family was making the sandwich at its first South Jersey location, in Blackwood, 40 years ago.
Sandomenico claims that the Godfather has been on the menu at Anthony's up I-95 since the beginning. Anthony Russo opened on Halstead Avenue, 14 miles from the Connecticut border, in 1987. Ro-Lynn has been owned by Dave Avicolli and Steve Yancey since 1998, and their Godfather dates back to the late 1960s when it was created by the original owners, the Carmolingo family. After the release of The Godfather in 1972, the sandwich was renamed in honor of the film. "You can find something similar anywhere," Avicolli says, noting that each deli adds its own twist. True prosciutto di Parma and their own house-roasted hot and sweet peppers are served at Ro-Lynn.
So the Godfather is more of a sandwich as a vibe than a specific combination of ingredients—a little Don Corleone, a little Furio Giunta in flashy Versace silk. The moniker served as a kind of quality seal, allowing enterprising deli owners to create whatever made their sandwich-artist hearts sing. Can't you hear the nonnas at the meat counter pulling paper tickets? "It's their Godfather," says the narrator. It's got to be good."