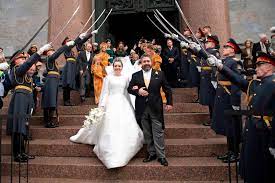 ONCE UPON A TIME: Russian Princess Wears Her Own Reem Acra Wedding Gown.
The newly crowned Princess Victoria Romanova Romanoff exchanged vows in a gown designed by Reem Acra for the first Russian Imperial wedding in more than a century.
For her wedding to Grand Duke George Mikhailovich at Saint Isaac's Cathedral in Saint Petersburg, Russia, the bride wore a silk duchess Mikado ballgown with covered buttons on the sleeves and an embroidered cathedral-length train. According to a Reem Acra spokeswoman, she discovered and purchased the gown at a Russian store.
According to a designer spokesman, "this garment is a classic that is meant to pay a tribute to the purity of the symbolism of marriage." It is designed and constructed in New York City using European fabrics."
According to a Reem Acra representative, the princess changed into a second Reem Acra gown for the reception. The embroidered gown with beads and crystals, dubbed "Mesmerized" by the brand, takes hundreds of hours of work and ten workers to make. The company declined to comment on the sale costs of the Mesmerized and Captivating dresses since officials were unsure where they may be purchased.
The pair married on September 24 in Moscow. Chiara Boni, the designer behind La Petite Robe, dressed the bride in a dove grey gown with gold-colored embroidery on the flounced ruffle for the event. According to a spokesman for the Reem Acra, Boni, who is celebrating her 50th year in the business, assisted Bettarini in interpreting what she intended, which was to highlight sensibilities from Italy and Russia.
The duke is the great grandson of Russia's Emperor Alexander II. The couple reportedly wore Fabergé wedding rings and a Chaumet tiara, as befitting a Russian royal ceremony. The gala meal was overseen by businessman Yevgeny Prigozhin, also known as Russian President Vladmir Putin's chef. The reception was held in the St. Petersburg Ethnographic Museum on Friday, and the celebrations are anticipated to continue on Saturday with a post-wedding brunch at Konstantinovsky Palace.
Bettarini is the director of the Russian Imperial Foundation and a writer who goes by both her own name and the pen name Georgina Perosch.