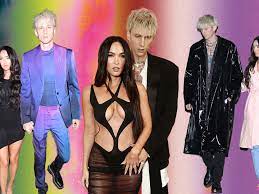 Maeve Reilly Discuss Megan Fox's "Working With Machine Gun Kelly." Megan Fox is having a big year in terms of fashion. From her bare Mugler gown at the MTV VMAs to her fiery red cutout Peter Dundas gown at the Met Gala to her bright pink, Barbie-inspired Mach & Mach jumpsuit at the iHeartRadio Music Awards, the actress has consistently upgraded her red carpet and street style.
Fox's clothing has generated regular frenzies on the internet in recent months, with admirers going crazy for her looks — and much of that is thanks to her stylist, Maeve Reilly. They've just been working together for a little over a year, yet it feels like they've known each other for "lifetimes."
According to WWD, "It's been kind of like love at first sight," Reilly said of her connection with Fox. "The wonderful synchronisation of our meeting… I'm not sure I could have guessed how beautifully this would turn out. "
After having major moments in the late 2000s and early 2010s thanks to movies like the "Transformers" franchise and "Jennifer's Body," Fox has generally stayed out of the spotlight in recent years due to focusing on raising a family. (She has three sons with Brian Austin Green, from whom she divorced formally in 2020 after a decade of marriage.)
Last year, however, provided a crucial moment for the star's comeback when she began dating Machine Gun Kelly, who connected Reilly to Fox in November after the former reached out for styling assistance. Fox dialed her number almost immediately.
"I think she's having a completely unique experience, dating [Machine Gun Kelly] and having these movies come out at the same time." It's simply a different era for her. Reilly explained. "I assume she was hiding before, and now we're naked at the VMAs," she explained. "We couldn't be more diametrically opposed to where she was a year ago."
"Everyone is talking about what she's wearing." I've always thought of street style as a great instrument for presenting yourself in a specific way, "she added. She's certainly taken advantage of that, because we weren't talking about what she was wearing a couple of years ago, and now we are. That was obviously done on purpose.
Fox's style is complex, according to Reilly, who also dresses Hailey Bieber, Ciara, and Lala Anthony. There's the "rock 'n' roll" side, but there's also an "over-the-top seductive" aspect that's been reflected in her recent red carpet outfits. Fox can also radiate a "cool tomboy" aura, carefree and easy.
Aside from the naked Mugler VMAs gown and the red Peter Dundas Met Gala gown (which Reilly collaborated on with the designer himself), some of Reilly's favourite looks for Fox so far include a red Alex Perry suit worn on her birthday and an all-black, lace outfit by David Koma during New York Fashion Week.
"She wears things that other people can't wear, and that's what I love about being a stylist," Reilly added. "I believe that's how you offer everyone their own unique flavour." No other customer I've had could have worn those [David Koma] tights in the middle of the day.
Fox's ensembles are sometimes influenced by Machine Gun Kelly, who has risen as a style icon in the last few years, which Reilly must consider when dressing her. When the day of the event arrives, she and her team may have numerous outfits ready for Fox, depending on what Machine Gun Kelly and his stylist, Adam Ballheim, decide.
"We absolutely want to make sure it's a lovely image of both of them together," Reilly explained. "I think a lot of the time, as an artist, they don't know how they want to transmit their feelings until the day of." So, [Machine Gun Kelly] may not make a decision until the day of the event, which will certainly affect what Megan wears.
This year is particularly significant for Reilly, who has recently created a YouTube channel to provide followers with a more intimate, behind-the-scenes look at her life and job as a stylist. Since she began in September, her videos on how she dressed Fox for the Met Gala and the VMAs have received over 600,000 views.
Reilly unveiled a 70-piece collection with Nasty Gal earlier this month, featuring pieces informed by the stylist's own personal and characteristic style, including oversized outerwear, wide-leg denim, fitted suits, and essentials like cropped tees.
"I never could have anticipated in a million years that I would be where I am today. From that very first day to now, it's sort of unbelievable," Reilly said of her 16-year career.