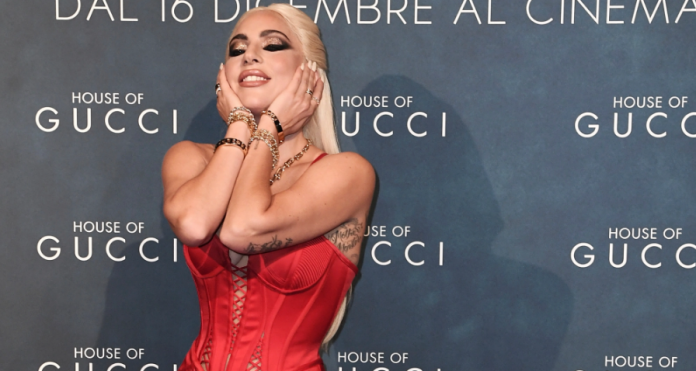 The singer-actress Lady Gaga looked stunning in a bespoke Versace red gown with lace-up details and a formfitting skirt with a high thigh slit on the left for the Milan premiere of the upcoming murder drama. She wore similar red platform shoes, Tiffany & Co. jewellery, and her hair was done in a half-updo. The actress used a dramatic, smoky eye and a nude lip for her makeup.
Sandra Amador and Tom Eerebout styled her. The former has collaborated with other celebrities including Maggie Gyllenhaal and Chloe Grace Moretz. Lady Gaga's hot run — literally — of fashion-forward red carpet attire continues for the "House of Gucci" press tour.
Lady Gaga posed for photos and waved to fans while it rained in Milan that night. She captioned a video of fans clapping as she blew kisses and welcomed the showers "Rain on Me Milan!" in reference to her 2020 smash duet with Ariana Grande.
Lady Gaga attends the premiere of 'House of Gucci' in Milan, Italy.
Earlier this week, she attended the film's London premiere on Tuesday night in a dramatic outfit from Gucci's spring 2022 ready-to-wear collection, which premiered in the Love Parade on Hollywood Boulevard last week. The opulent dresses and outfits in the collection were influenced by Hollywood and costume design.
Lady Gaga wore a purple draped maxidress in silk chiffon with a flowing cape and twirled around the red carpet. She accessorised with transparent, crystal-detailed opera gloves and sheer lace, thigh-high fishnets, which she wore with black platform boots.
Adam Driver, Jared Leto, Jeremy Irons, Salma Hayek, and Al Pacino play Patrizia Reggiani, Maurizio Gucci, Paolo Gucci, Rodolfo Gucci, Giuseppina "Pina" Auriemma, and Aldo Gucci, respectively, with Lady Gaga. Ridley Scott is in charge of the film's direction.
"House of Gucci" covers the circumstances leading up to and following Maurizio Gucci's murder in 1995, which was staged by Reggiani, his ex-wife. Maurizio was the CEO of the famed Italian fashion brand founded by his grandpa, Guccio Gucci, at the time. "House of Gucci," a film produced by MGM Studios, will be released in theatres on November 24.